DRY RUN TEHYA PALOMA OF WESTOVER
January 15, 2010-December 17, 2020
---
Tehya was our second Chocolate Lab. Susan wanted another after we lost Tessa in November of 2009. "Dry Run Tehya Paloma of Westover" was born at Dry Run Retrievers in Montgomery County, Virginia.
The "Paloma" part was added to her name by Susan's niece, whom we took on a dove shoot in Argentina just before we brought Tehya home from the kennel on March 13, 2010. Both her mother "Godiva" and her father (a bruiser whose name I never did get) were large dogs, and the end product was a BIG Lab—half again as large as our late Tessa.
Chocolates are universally regarded as the dumbest of the three colors of Labs, and Tehya was no exception to this rule. We brought her home as a 7- or 8-week old puppy, and unlike Tessa, who was an angel from the first day, Tehya was a perfect hellion. Not that she wasn't biddable; it's just that she was somewhat intelligence-deficient and housebreaking her was a bit of chore. She managed also to gnaw the leg of a $700 chair while she was teething.
She always took very seriously the Labrador Retriever's Code of Ethics:
If it moves, chase it.

If it stops, kill it.

If it isn't moving, eat it.

Just because something something seems to be inedible, that doesn't mean it is. Eat it anyway and see what happens.
The very first night we had her, she ended up in the ER at the vet school, with an advanced case of "rubber band-itis" that caused bloody diarrhea and vomiting. A little later into her puppyhood she ate a fishing lure, complete with hook, necessitating another ER trip and an overnight stay at our local clinic. True to form, she passed the damned thing intact, and I imagine she never was aware of its presence. Over the years she mellowed somewhat. She believed that she had two responsibilities: first, keeping the covers from sliding off the bed at night; and second, allowing Lucy to chase and catch a Frisbee, bring it all the way up the hill, and carrying it to me the last 15 feet to get a reward. Big, dumb, and lazy, she was nevertheless a very nice and sweet dog to be around, especially if one was prepared to slake her endless hunger for dog biscuits.
---
On Thursday December 3, Tehya refused to eat her breakfast. When a Lab won't eat all the danger flags start flying, so we immediately took her to the vet. Initially we were worried about an obstruction or bloat.
The news was worse. She had metastatic lung cancer, a hemangiocarcinoma, from an unknown primary tumor, most likely in her spleen. We were told she had perhaps a month to live but she lived only two weeks after the initial diagnosis. There is no cure for hemangiosarcoma, no treatment, nothing to be done. Our role was to keep her as comfortable as we could until the end. Thankfully she wasn't in pain.
For two weeks she still ate but she was visibly losing weight and her energy level was very low because her tumors made her anemic. For a while she could walk, go out into the yard, and still hop onto the bed; but soon she became be unable to do any of those things. I promised her that she would not die in some cold, soul-less clinc, and made arrangements for a local veterinary practice to come to our home.
---
Tehya was put to sleep on December 17th. She was a couple of weeks shy of her birthday: she'd have been 11 on January 15th 2021. We were devastated by the suddeness of it all. It was exactly two weeks—two weeks!—since her initial diagnosis gobsmacked us. She'd been up and down, but on the night of the 16th she had a rough time; we took her off the bed and put her in our bathroom, where she seemed to sleep more easily. She couldn't stand or walk without assistance and we knew it wouldn't be long before we had to do the inevitable.
At 4:30 or so on the 17th Lucy the Border Collie wanted to go out. Mrs Outdoorsman let her out and helped Tehya go down the stairs from our bedroom floor to the front hall, then followed Lucy down to the basement to let her out. Then Tehya, without assistance, followed my wife downstairs, because she wanted to go out too. My wife called me, but Tehya actually went into the yard, walked down to the bottom of the field, did her business, and walked back up again. We were amazed at this: she could barely stand or move but she managed not only to do that but to come back up two flights of stairs. Although it was encouraging we weren't fooled into thinking it would mean much, and we were right. Later that morning she more or less had to be carried down to the kitchen; she ate pretty well but then collapsed again. We knew it was time: we called the house-call veterinary practice, who came at 12:30 PM.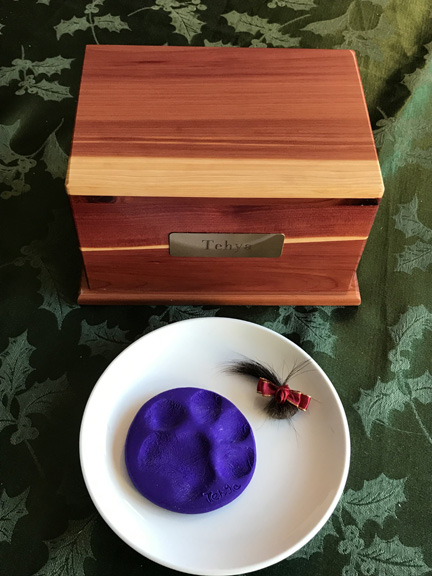 Tehya was clearly in respiratory distress by that point: labored, shallow, rapid breathing that wasn't giving her adequate oxygen. The vet gave her a tranquilizer shot to ease her distress and then after a few minutes she inserted the needle and administered the lethal injection. Tehya barely noticed anything at all: and she drifted away quietly, peacefully, and without pain. It was as good a death as one could wish for a dog who had earned it by a blameless and loving life.
She died here at home, with us in attendance, under our Christmas tree. The vet transported her body to the clinic we have used for 33 years for all our dogs; she was cremated and we received her ashes, a paw print, and a lock of her hair. That's all we have left, except for the memories and the grief. Of the seven dogs we've had five have died from some form of cancer.
I'm glad we were able to keep our promise but at this point my principal emotion in addition to acute grief is a profound, incandescent anger. I have to deal with this situation one more time, when Lucy's turn comes; but after that, no more. I am at an age when any dog I might get would likely outlive me, and after Lucy passes, I am NOT going to do this any more. I look up and expect to see Tehya in her usual spots and she isn't there. Lucy is looking for her, too. But she's gone, leaving behind a hole in all our lives that will never be filled.
There will not be another dog. At my age a new dog would outlive me. And I simply can't do this any more. How people can believe in a merciful Supreme Being is beyond me. A God who will condemn an innocent dog and still allow human vermin to live is impossible for me to accept.
---
TEHYA'S HAIKU
If it is not food
I can take no interest.
My appetite rules.
---
| Gordo | Penny| Dante | Toby | Tucker | Meg | Tessa | Tycho | Lucy | Tehya|