LUCY
November 24, 2009-
---
Lucy is my second Border Collie. When my beloved, dear, sweet Meg died in September 2010, I swore I'd not get another; but after seven months the lack of a Border Collie got to me, big-time. I didn't want a puppy: I'm past the age of housebreaking a pup. I contacted Blue Ridge Border Collie Rescue and told them I wanted a dog: specifically a spayed female a year or so old, housebroken and ready to move in. No dog could ever replace Meg, but just having a Border Collie around would help fill some of the void left by her death.
BRBCR called me the very next day. "We have a dog for you." A gentleman in Maryland was getting a divorce: he was moving to an apartment, his ex-wife didn't want the dog, and his son was going away to College. After much soul-searching he had decided the best thing for his pet was a new home.
We met him, and Lucy, in Orange, VA on April 24, 2011: Easter Sunday. He was very broken up, but recognized that she was going to be loved and cared for. We interviewed her for the position of Assistant Dog; made an offer; she accepted our offer, and came home with us forthwith. Her ABCA registered official name is "Wampler's Lucretia of Westover," and had she not taken up a suburban existence, she would have been a crack herding dog.
Lucy is nothing like Meg. She is a force to be reckoned with, very self-assertive. Upon arriving at the house she said, "'Assistant Dog,' my butt, never happen!" She took one look at Tycho and Tehya, and announced, "I'm the new Sheriff in this town, and you two are going to do what I say." She was the Alpha from Day One, and brooks no encroachment on her authority.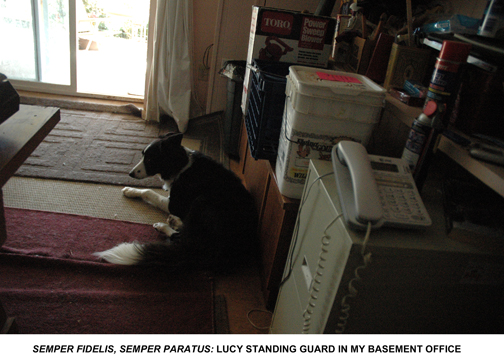 She is, if anything, even more of a nut about the FRISBEE than Meg was. She is very, very good at catching it, though she's not so fast a runner. She'll come and pester me for play time, and can never get enough. Her other passion in life is guarding the bird feeder in our back yard. For Lucy, squirrels are The Enemy. It took her a while to figure out how to do it, but eventually she developed a strategy to catch them: a couple of months ago she caught one (whose nickname was "Half Tail") and I found her merrily crunching away
on his body, having eaten the head first. Later she killed two groundhogs in one day, and I subsequently found her with half a squirrel in the yard, flipping it around like she does with her rope toy. She'd eaten the front half.
She loves mud. If we let her go into the yard on a rainy day she'll come back caked with it. Thanks to her need for constant activity, she runs in circles when she's not chasing a Frisbee, and she's worn a "track" in the grass, much to my wife's dismay.
---
LUCY'S HAIKU
I am a good dog.
I am the happy Alpha.
But I am not Meg.
---
| Gordo | Penny| Dante | Toby | Tucker | Meg | Tessa | Tycho | Lucy | Tehya|