TRIP REPORT: ALASKA & PRINCESS CRUISE
---
We recently completed a trip to and a cruise from Alaska, ticking off one of our major Bucket List items. Everything went very well. We had last been to Alaska in 1996 on a driving tour of the interior, getting as far north as 75 miles above Fairbanks with a side excursion south to Whittier.  
So we started off this trip with a couple of days in Anchorage followed by a drive through most of the Kenai Peninsula, including places we'd not been to before,  Homer and Seward.  Then we returned to Anchorage, turned in our rental car, were bussed back to Whittier to board Pacific Princess on her run south through the "Inside Passage" as far as Vancouver, BC.
---
Anchorage has really grown—perhaps "metastasized" is a better word—and there wasn't much of it that we remembered. It is now a metropolis of 300,000+,  far and away the largest city in the state.  In 1996 we'd actually encountered a moose in the parking lot at the Wal-Mart; but no moose could get within 2 miles of that lot now before being killed in traffic.  Another sign of change was that Wal-Mart had no guns on display—this in Alaska, where everyone owns a gun.  The racks were empty, all the guns having been removed by order of the Wally World Regional Office.  It seems that three weeks before we arrived there had been a break-in, some guns were stolen, and Management freaked out when one was recovered in a robbery.  The clerk at the gun counter told me, "Now we have to have someone on the counter at all times; and Anchorage has become just another Anytown USA!"  Sic transit gloria mundi.
One thing that has improved is the restaurants.  There are plenty of bad ones left in Anchorage (as we know from personal experience) but there are more good ones than there used to be.  They ain't cheap.  Nothing in Alaska is cheap.
---
The Kenai Peninsula is a big place and seeing it involved a lot of driving: well over 600 miles with the various stops we made.  The scenery along the roads was spectacular (outside Anchorage you can hardly go anywhere in Alaska without spectacular scenery) but with a dearth of wildlife.  The total moose count was 6, one moose per hundred miles.  That's more than I'd expect in Maine or Vermont, but far fewer than there might have been.  All were cows, one or two with calves in tow.  There were no bears in evidence, not even a lousy little black bear or two.  A few dubious eagle sightings (though we saw those later) and that was pretty much it for the celebrated Alaskan wildlife.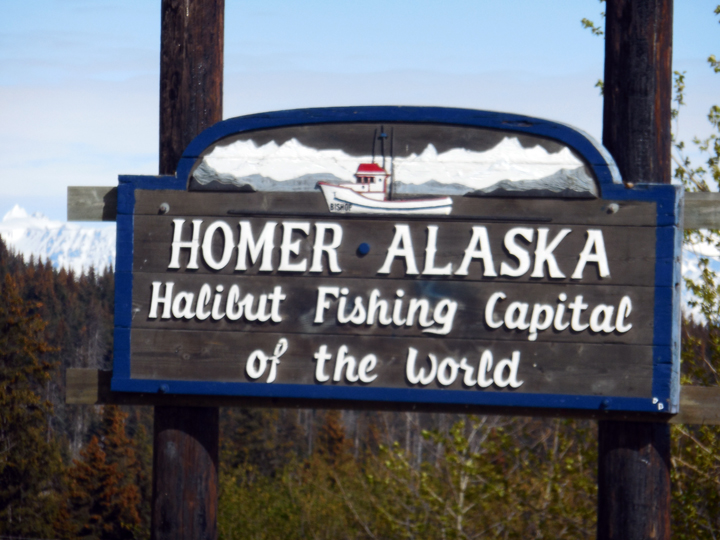 Of the "cities" were saw there I liked Homer the best.  It's pretty touristy but retains some of its essentially Alaskan nature, especially in the restaurants, which feature seafood.  I'm not a big fish eater, but I did have some outstanding halibut out on "The Spit," the point of land that juts outward and is the location of Homer's commercial and fishing harbor.  Homer isn't built up into high-rise buildings (yet) and while it's no longer a quaint fishing village it's tolerable: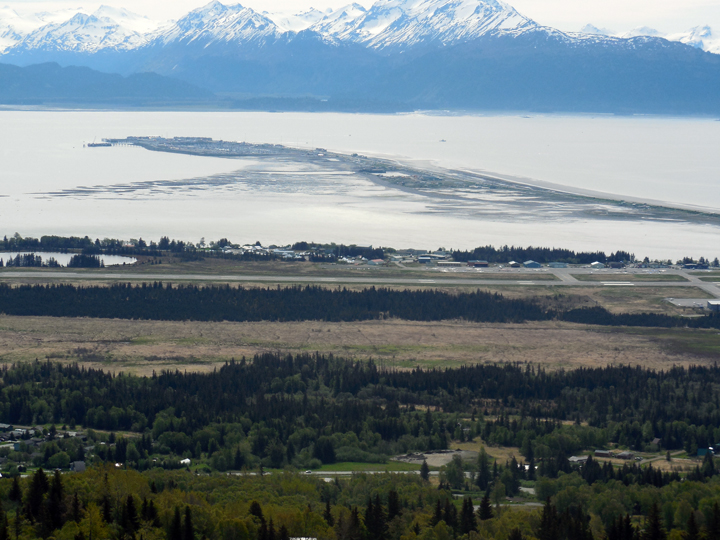 much like a beach town on the east coast.  If ever I go back to Alaska it won't be to hunt; it will be for a fishing trip out of Homer, the self-proclaimed "Halibut Fishing Capital of the World."
Anywhere along the coast of Alaska you will encounter boats.  It seems that as many Alaskans have boats as cars.  The boats there (and on the Canadian coast) are different from the ones I see in coastal North Carolina.  The boats in NC are built for speed, speed, speed: they
look like Clorox bottles with two or three outboard engines attached.  Alaskan boats for the most part are designed for rough water, and tend to be trawler types.  Most of them have inboard engines and looked very stable. 
In Seward we stopped in a decent restaurant for dinner.  A group of people who'd obviously come for the halibut fishing were at the next table, including one very large gentleman who'd draped his jacket over the back of his chair.  In the course of the meal, his jacket slipped to the floor, revealing that in his waistband he was wearing a Colt .45 automatic pistol.  Alaska is one of six or seven states in which carrying a concealed weapon is perfectly legal (no permit needed). No doubt other people were "heeled" but that's the only time I ever definitely spotted one.  Now, this guy was big enough that no one would have messed with him, but perhaps he used the gun to finish off some of those monster Alaskan halibut once he'd got them into the boat.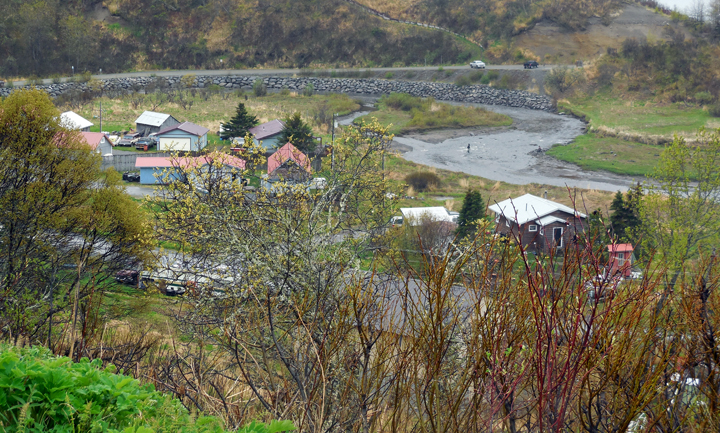 One place on the Peninsula I very much liked the looks of was the little village of Ninilchik on the western shore, dominated by a pretty Russian Orthodox church high on a hill (the Russian Orthodox faith is still common all over Alaska thanks to the state's history).  The village was just that: a few small houses and a tin-roofed shed or two serving as some sort of store, and not much else.  It looked the way I had expected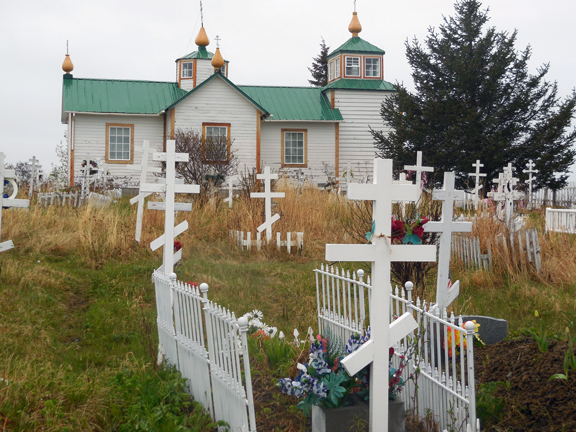 Alaska to look.  It was also one of the few places where we didn't see logos for the same sort of stores you see anywhere else in America, such as Subway and Starbucks.  I imagine people there die of boredom in winter, their lives enlivened only by fighting off the cold and the moose, but in the Summer it looks like a nice place to visit.
Once we'd "done" the Peninsula we drove back to Anchorage.  In what is probably the fanciest restaurant in town (Simon and Seaforth's) we were eating dinner when in came a group of what I usually call "good-looking deaf guys."  I think they were Secret Service, an agency I encountered a lot when I lived in DC, and whose operatives are hard to mistake for anything else, thanks to the little earpieces and fancy lapel pins they wear; and the steely-eyed 1000-yard stare.  Secret Service men never look directly at you: they're constantly scanning the horizon, looking for threats.  We were told they were guarding the Norwegian Ambassador, whom I assume had come to Alaska for the halibut.  Out in the street there were the usual armored Chevy Suburbans and street blockades, and the in-the-street guys who didn't have the seniority to eat in the restaurant.  Were they thinking there might be potential terrorists seeking to off a Scandinavian ambassador, in Alaska, of all places?  I'd have to question why anyone would want to kill a Norwegian diplomat, but who am I to argue with the Secret Service?  There must have been a reason for all the security, and it's unhealthy to get shirty with armed men whose lives are dedicated to taking a bullet for someone else if you give them an excuse.
---
The next day Princess picked us up in a motor coach, and took us to the ship in Whittier; about an hour and a half drive that involves taking the bus through a dual-purpose tunnel.  In 1996 we'd had to take a train to Whittier, as there was no road access: today the same tunnel is used by motor vehicles as well as Alaska Railroad trains, careful scheduling being used to prevent—ahem—vehicular conflicts. Whittier is now a cruise ship terminus, and we remembered nothing whatever of it from our previous brief visit.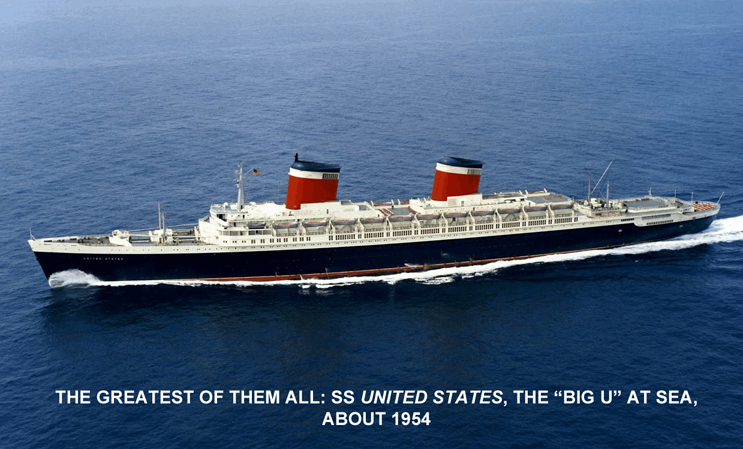 I have a "thing" for ships, the result of having grown up in New York City at the very end of the era of the great ocean liners.  I used to see those magnificent vessels moored along the West Side Highway and dream of sailing in one.  I never did and I never will, but they have always epitomized all the elegance and grace that the phrase "ocean liner" embodies.  Those beautiful machines were the 20th Century equivalent of cathedrals in some ways.  Images of the two Cunard Queens, Bremen, Michelangelo, Italia, France (and the fastest, most impressive of them all, S.S. United States) make up a significant part of my youthful memories.  I clearly remember the tragic sinking of Andrea Doria when I was nine years old.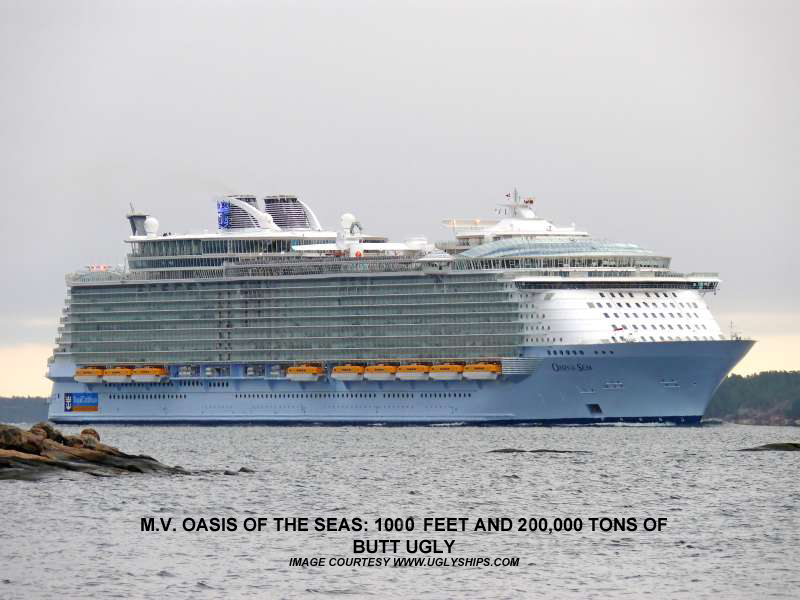 Modern cruise ships by comparison to these are usually pretty ugly. Hideous tubs like the late Costa Concordia and her sisters are little more than container ships with motels grafted onto them. 
---
So I was very pleasantly surprised to see in our ship, Pacific Princess, some vestigial remnants of the refined lines of the old "greyhounds of the ocean."  Although (in common with all other cruise ships) she has the slab-sided look necessitated by stateroom verandas, the rest of her was pleasingly proportioned; even her stern wasn't bad.  No doubt she has the standard eyesore of a bulbous underwater bow, but you couldn't see it from the deck so I was able to pretend it wasn't there.
Pacific Princess is a "small" ship, which means it's only a bit over 600 feet long, is of only 30,000 gross tons, draws only 18 feet of water, has a crew of only 300, and embarks only 673 passengers.  PP is indeed "small" when compared to some of the behemoths of the industry.  Disney Wonder, which followed us from port to port, is 85,000+ gross tons, and carries 2500 passengers, most of them small children amped up on adrenaline and sugary drinks.  But even that monster pales in comparison to Royal Princess, which is 141,000 tons and carries 3600 passengers,  quite a bit larger than even the biggest of the USA's aircraft carriers.  Alongside ships like these the river cruise boats we've experienced would barely qualify as tenders, or perhaps lifeboats.  They hold only 140-150 passengers, are all of 300 feet long, and draw perhaps 6 feet. Each lifeboat aboard PP had a labeled capacity of 150. 
Ship security was pretty tight.  In the Good Old Days people traveling aboard one of the great liners would sometimes hold "Bon Voyage" parties, inviting all their friends and associates to see them off.  No more of that, if you please.  Nowadays it's like getting on an airplane, except that the crew is polite and doesn't threaten you with a proctologic exam if you look resentful.  Baggage is collected when you get on the bus to Whittier, and x-rayed before you board.  I had previously been warned not to try to bring a pocketknife onto the ship, so I stuck it into my checked bag, as I would for an airplane ride.  I deeply resent not being able to carry a pocketknife, which is more or less an essential tool of modern life.
There was a twist, too, that thank God the airlines don't use.  We each were given a "boarding card," a credit-card sized, bar-coded piece of plastic that served in lieu of cash on board for anything we might want to buy in the Shoppes (see below) or at the various bars; it also was useful in the Casino if one is dumb enough to gamble on credit.  Before we actually boarded the ship, a crew member scanned the bar code and took a picture of each passenger.  Every time we left the ship we had to show the card; every time we re-boarded not only did we have to show the card again, but they actually looked at the picture on their little hand-held scanners to be sure the person holding the card was the one they'd photographed on the first day.  The color of the card also indicated how many cruises you'd take with Princess Lines.  We first-timers had blue cards.  Some of the passengers had been on 8 or more cruises and I suppose they had gold or platinum or plutonium colored ones.  I think after your second cruise you have to take a loyalty oath never to sail on any other line.
---
The passenger population, as might be expected, was almost entirely Affluent Retirees Of A Certain Age.  There were one or two couples young enough to be on their honeymoon, but on the whole it was (to paraphrase Katherine Anne Porter) a Ship of Geriatrics. Perhaps five young children were present, one of whom was a precocious tyke (age 7) who had his own tuxedo for formal dinner nights, and who was asked to introduce the acts on two of the "entertainment nights" in the ship's nightclub as a sort of a Junior Master of Ceremonies. 
PP is registered in Bermuda, i.e., she flies a "Flag of Convenience."  This makes for cheaper insurance, but more importantly it allows Princess Lines to avoid having to deal with American labor, American labor laws, and the Seaman's Union.  Crew members wore badges showing their name and home country: most of the waiters and stewards seemed to be from the Philippines or Indonesia; some from India, a few from Mexico, a Thai here and there, a few from Ukraine.  The Captain (whom we never saw but whose disembodied voice spoke ex cathedra via the public address system) was British; the dancers and singers in the cabaret were Aussies, the headwaiter for our section of the dining room was Polish, the maitre d'hotel and the Chef de Cuisine were Italians, and the ship's doctor was Russian.  Not an American citizen in the bunch.  You hardly ever encountered members of the crew who were not in the direct service of passengers.  Engineers, navigational officers, and so forth were always out of sight except when one of them passed from one part of the ship to another and had to enter Passenger Territory.
Passengers aboard PP are treated to a standard that even the famous liners of bygone days probably couldn't match; top-of-the-heap luxury liners such as Titanic and Lusitania  made even First Class travelers make do with salt-water baths in common bathrooms, shared toilets, and many other things that would be unthinkable on present day cruise ships. On the score of comfort she left nothing to be desired.
The food was excellent and very varied.  We had a choice of traditional dining in the "Club Restaurant," or informal dining in the "Panorama Buffet" in the stern.  Everything was all-you-can-eat, and there was 24 hour room service plus a barbecue grill on the pool deck.  And afternoon tea.  And the "specialty restaurants," i.e., an Italian one and a steakhouse.  (These two last were subject to a "cover charge" of $25 each, so we skipped them.  The food comes out of the same kitchens, without doubt; and since meals are included in the cost of the cruise, why anyone would choose to spend the extra money is beyond me.) 
The one exception to excellence of the cuisine was the coffee.  It was uniformly flat, flavorless, and I deeply suspect that all of it was decaf.  I always asked for "regular," but I'm prepared to swear in court that what I actually got, every time, was decaf.  It's impossible to fool me in this respect: in the mornings I simply don't function without a stiff dose of caffeine, and while I did experience the gastrointestinal effects of coffee (if you catch my drift) not one time did I receive any of the neurological advantages that real coffee confers.  Why Princess Lines would practice such a cruel deception on groggy passengers I can't imagine, unless their bean-counters decided that inventorying two kinds of coffee and maintaining two sets of pots on the waiters' station was too expensive.  I will assert with my last breath that aboard Pacific Princess I never received a cup of "regular" coffee.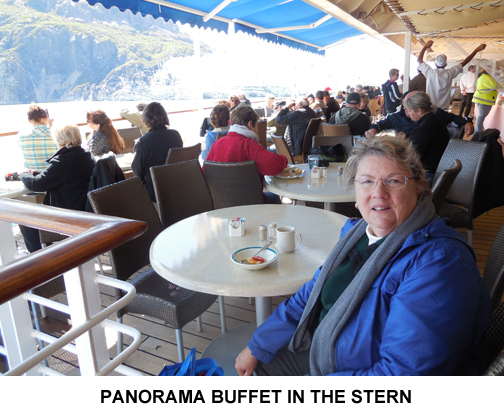 Another annoyance was that no beverages other than tap water were included with meals.  None. You would think that soft drinks would be included in the fare, but not so. If you asked for a Coke at dinner, let alone wine, it was an extra charge that went on your cruise card.  If you drank a bottle of water in your stateroom the steward made sure it went on your shipboard account.  River cruises include beer and wine with meals and we were shocked to find that ocean cruises don't.  We did order wine a couple of times, at only three times the price we'd have paid for it on shore.
Other shipboard amenities included a casino (which we ignored), several bars (ditto) and two "lounges." One of these, the "Cabaret Lounge," was the site of nightly entertainments.  They'd brought a couple of comedians aboard on contract. One of these was a juggler who could juggle plastic grocery bags (not as easy as it sounds), stuff 4 ping-pong balls in his mouth, pop them up to the ceiling, and catch them in his eye sockets (I swear I am not making this up).  The second was a stand-up "observational" jokester.  One night a very good young violinist played a mix of "classical" and bluegrass music.  All in all, they were OK, but not up to the standards of Las Vegas. No magicians, no ventriloquists, and certainly no nekkid chorus girls. One day, however, there was a cooking demonstration with the Chef de Cuisine and the Maitre d'hotel doing a cross-talk comedy act of their own as they made linguini. Libby Riddles, the first woman to win the Iditarod dogsled race, also came on board (with a dog) to talk about it.
The crew's "Entertainment Division" included a band (all Canadians, so they called themselves "Canadian Club," ha, ha) and a troupe of singers and dancers.  There were two principal vocalists: a leather-lunged tenor and a zaftig blonde who was nowhere near so young as she thought she looked.  Backing them up was a six-member "chorus" (three of each gender who were substantially younger).  This troupe and the band performed several "original productions," mostly medleys of pop tunes.  They were very energetic and very LOUD. None of the skits or other acts lasted longer than 45 minutes or so, being geared to the attention span of retirees who have fed and are looking forward to bedtime. 
All the music, whether live or on the PA system, was what I call of the "Early Baby Boomer" genre: late 1950's to late 1960's.  The crew troupe's repertoire included pre-Rock & Roll for the octogenarians, some mawkish movie themes everyone recognized, a considerable admixture of Bubble Gum standards, some Buddy Holly and of course…The King.  To my great distress, at one point there was a medley composed entirely of post-Sergeant Pepper Beatles tunes, including that notable anthem "Imagine," one of John Lennon's stupidest and most annoying efforts.  This last was done in a schmaltzy arrangement suited to the aging sentimentalists in the crowd who became misty-eyed thinking about Woodstock (whether they were there or not).  The PA system was rife with "standards," Frank Sinatra being spectacularly in evidence, as was Perry Como.  Now and then they'd throw in some Patsy Cline for the odd redneck who'd scraped up the price of passage; and of course there was…The King. (One major reason I don't want to go to a nursing home is that I know the PA system will play Muzak versions of the Beatles, Elvis, and Bob Dylan. As bad as that would be, they would be an improvement on The Carpenters.) 
The "Pacific Lounge" was mainly a drinking establishment (though to be sure there was a bar in the Cabaret Lounge for those who couldn't stand John Lennon's tripe without fortification).  During the day in this venue there were twice-daily trivia contests (I swear I am not making this up), and lessons in such up-to-date dances as the cha-cha and the foxtrot.  There was a library, a "card room," and a spa as well as a "fitness center" (what used to be called a "gym," a term now passé for some reason).  All this jollity was presided over by the Cruise Director, a remarkably ebullient Englishman (yes, I know that is an oxymoron) who bounced off the walls and shouted cheerily as he introduced acts.  At one point I told him it was a pity he was such an introvert, which gave him a chuckle.
And there were…The Shoppes.  These were full of expensive watches, cameras, miscellaneous useless gewgaws, and a vast array of junk jewelry at grossly inflated prices, glittering in displays on black velvet with gold borders.  Necklaces, pendants, chokers, rings, more rings, fancier watches, and on and on.  A goodly amount of deck space was devoted to hawking this stuff, but one small corner of the Shoppes was a "sundries" area wherein one could buy items like toothpaste, disposable razors, and….condoms.  By God, if you didn't want to get knocked up on your 50th Anniversary cruise,  Princess Lines was there to do what they could to help you out. And of course there were no nekkid chorus girls to give you ideas.
Princess is very, very much into marketing Junque in the Shoppes.  In this respect the ship was a sort of floating version of Las Vegas.  Win big in the Casino?  Don't wait, buy your Junque Jewelry NOW, here, on board!  Oh, and while you're at it, check out our line of clothing, with Princess Lines Designer labels!
---
In The Old Days ship passengers were divided into "classes."  First Class, Second Class, Steerage, and Cargo.  Nowadays only air lines do this (and there is only Cargo class).  But money talks, and although Princess Lines would never admit it, "First Class" in their ships means a suite; and "Second Class" a "veranda stateroom."  We went "Steerage," which meant an "inside stateroom," with no window or veranda, but a significant difference in price.  Moreover, there were plenty of public areas on the top decks where even we of the Submerged Hundred could view the scenery.  Our cabin was about 160 square feet, including a tiny three-quarter bath with a shower and a vacuum-powered toilet that when BANG! when flushed.  Needless to say there was a TV set: one channel showed the view from the bridge, another the ship's position, course, and speed so that you didn't actually have to get out of bed to see the sights if you didn't want to.  The rest of the channels were devoted to old movies and re-runs of the 1980's TV comedy "The Love Boat."
---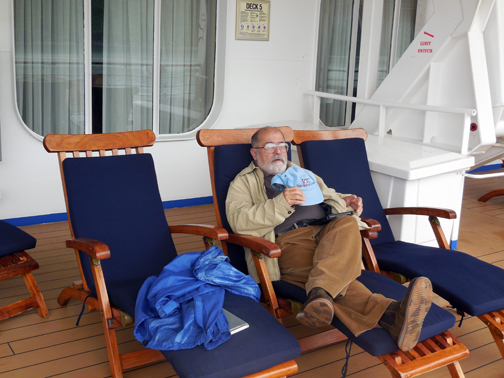 I had planned to spend most of my sea time in a deck chair on Deck 5 underneath the lifeboats, watching the Pacific roll by, but Susan considered that too cold and windy.  Besides, she is subject to seasickness and doesn't like to watch water moving past, another reason we chose a cabin with no window.  We usually sat on the top viewing deck, sheltered from the cruel blasts of Arctic air by panes of glass.  It wasn't the same but it had to do despite my long-standing dream of being swaddled in a blanket in a deck chair being served tea by a solicitous steward as the ship rolled and pitched.
---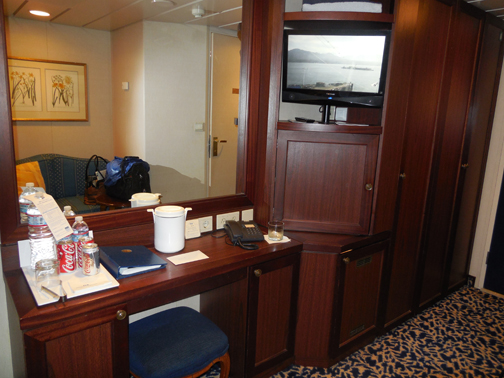 The ship did not roll or pitch.  The sea was calm, we were usually in sheltered waters, and even in the open ocean it was very stable, nearly as motionless as a river barge.  In the cabin, there was no sensation of movement whatever, though perhaps had the sea been rougher there might have been.  For the first part of the cruise the weather was what might fairly be called "Fifty Shades of Gray and Wet," but it cleared up later and we were able to go up top without parkas.  Some hardy souls even went into the pool!
One virtue our windowless cabin had (besides the price) was that when we turned out the lights it was dark.  Pitch black, actually: except for a glimmer of light under the door to the corridor it was positively Stygian.  This made it an excellent place to sleep undisturbed by the Midnight Sun, which in the latitudes we visited was a reality.  If it ever gets dark in those latitudes this time of year you couldn't prove it by my testimony. Certainly it can't be much before midnight or perhaps later.
---
The ship made three port calls: Skagway, Juneau, and Ketchikan. These were so that people who couldn't find the exact kitschy souvenirs they wanted in the Shoppes would have another chance. I will not speak of these towns in detail, except to say that interspersed among the "historic" buildings all the streets were lined with souvenir shop after souvenir shop.  Skagway has a population of 900 (in the Summer) but with four ships in port,  7000 tourists crazed with the lust for Chinese-made ulus and "genuine Alaskan" souvenirs of every type—not to mention Junque Jewelry—flooded the streets.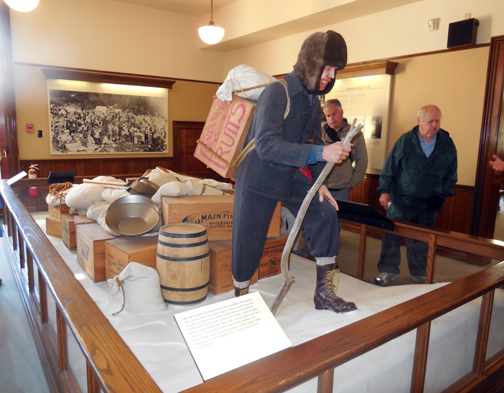 We did see an interesting Park Service museum on the Gold Rush (Skagway was the main port for disembarkation to the Klondike) and rode a clattering, banging, rocking and rolling railroad up to White Pass.  Juneau is a state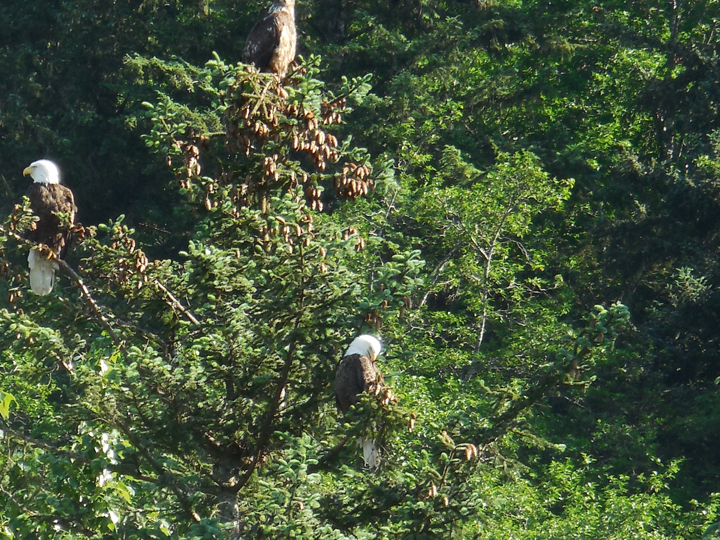 capital but it's smaller than Blacksburg and the only sight of interest was the cable car up Mount Rogers. 
Juneau is also where the United States Bald Eagle Fleet has its home port.  We saw dozens of them, glaring down at the tourists from the trees, hoping someone would die so they could strip his carcass of flesh.  Juneau also has a few street pigeons (how on earth did they get there?) even though you'd think these would have been easy meat for the eagles. Speaking of birds, when we were in Ketchikan we went for a ride in a float plane, the Official State Bird of Alaska.  Float planes are everywhere: far more common than eagles, even.
---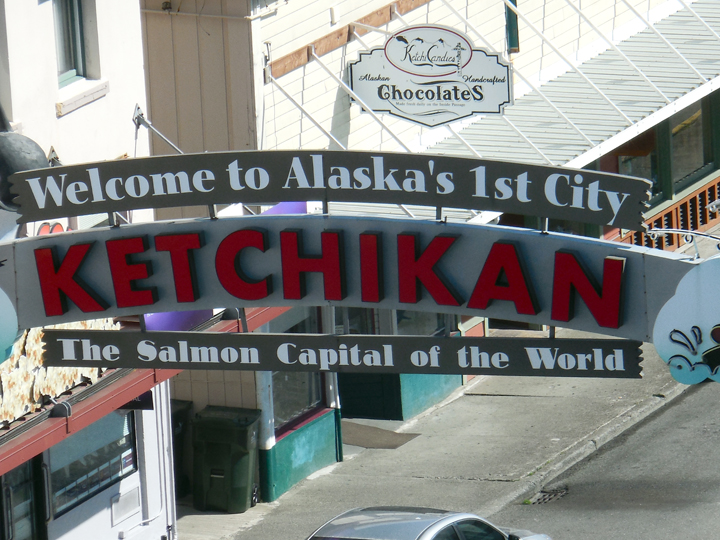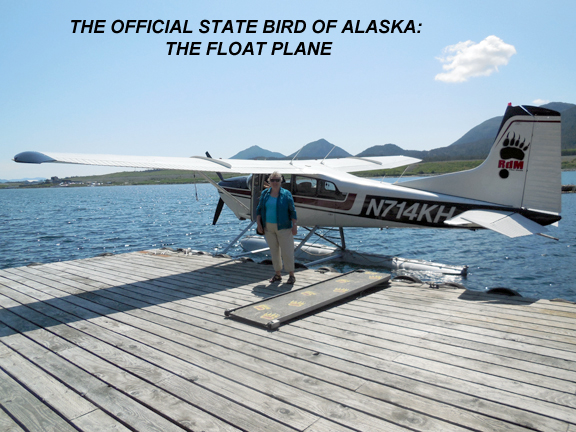 Ketchikan's main claim to fame is Creek Street, lined with what were, in simpler times, some of Alaska's most famous and historical whorehouses.  One bears a sign that proclaims, "Where the Salmon and the Men Came to Spawn."  Maybe that's why they sold condoms in the ship.
Eventually we made our final port in Vancouver, BC.  Canada is technically an independent nation (I know this to be true, as hard as it is for me to think of it foreign country) and everything there was, well, Canadian.  The people were invariably polite, the streets immaculately clean (except for gazillions of cigarette butts) and everything was sold at a 20% discount thanks to the exchange rate.  Princess had booked us into a Westin Hotel, a very flossy place, where we spent two nights. Many people there had dogs, very polite Canadian dogs, and they're allowed to bring them into shops and hotels: there were few in our hotel.  Try bringing
a dog into a posh American hotel and see what happens! 
The first day in Vancouver we'd ventured to Chinatown, where we visited the Dr Sun Yat Sen Memorial Garden. There also we had an excellent lunch in a local restaurant, though we eschewed the Daily Special posted on the wall: snake soup.  There was no mention of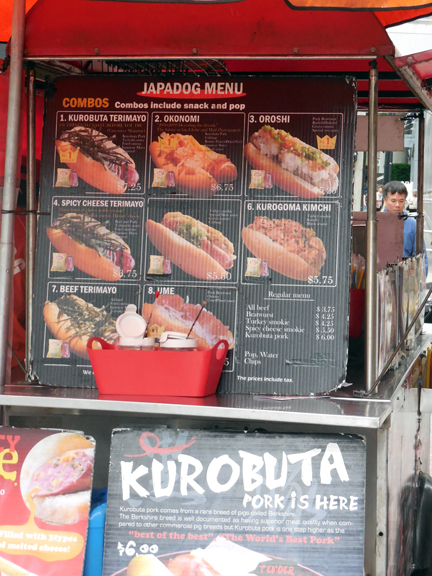 what kind of snake, and perhaps it doesn't matter. There aren't a whole lot of snakes in Canada but I'm sure the few they have surely would make excellent soup. 
Vancouver is a very ethnically-varied place and a substantial proportion of the population is Asian or Indian in origin. That accounts for such horrors as what I can only call "ethnic hot dogs." Tandoori style hot dogs? Teriyaki hot dogs? These things would be unthinkable—in fact, they would likely be felonies—in the Bronx neighborhood where I grew up. Hot dogs, as every Bronx Boy understands, were intended by God to be vehicles for mustard (and not that yellow crap, either) and sauerkraut! I grew up eating hot dogs, hot dogs were my friends, and I say if you put tikka sauce or wasabe on it...it isn't a hot dog. I don't know what it is, but it's something else.
---
Mrs Outdoorsman had wanted to go to Butchart Gardens in Victoria so we took the British Columbia Ferry to Vancouver Island.  We'd seen Butchart Gardens in 1991; and as little interest as I have in gardens I will admit that if you're into gardening it's pretty impressive.  There and in many other places we encountered more of those polite Canadian dogs. Butchart is quite dog-friendly, to the point of having special drinking fountains specifically for dogs.  Nor did we even one time see a doggy "calling card" anywhere.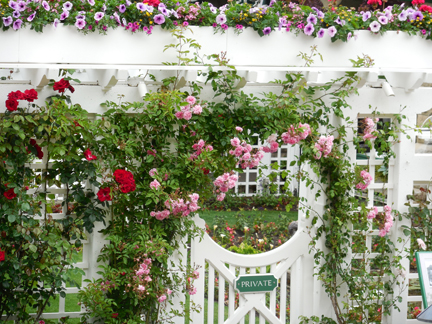 The Butchart side trip took up a full day.  The ferry ride alone is an hour and a half each way, and the hotel and the gardens were both 45 minutes from the docks.  The ferry was crammed to the gunwales with tourists, all of whom were taking selfies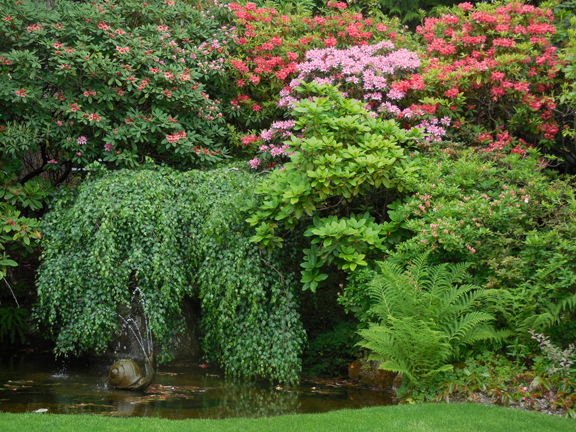 to prove where they'd been.  By the end of the day we were pretty well worn out, and we didn't get to see much of Victoria, just the outside of the Parliament Building and lobby of the Empress Hotel.
Vancouver is also a place where you see boats in plentitude, and there I saw one yacht that made me think I should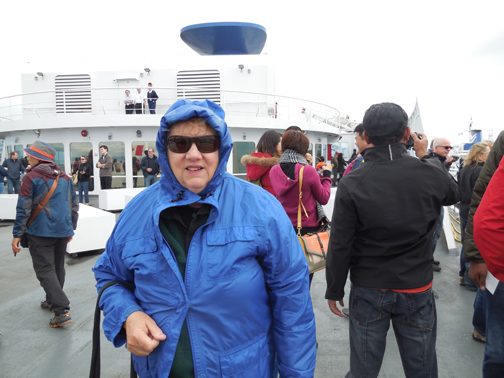 have become a Mexican drug lord.  It was a huge trawler type with an elegance of line that caused me to weep at not having the $1.75 million (Canadian) asking price.  If I liquidated my retirement accounts, sold my house, and mortgaged my dogs, I might have scraped up the down payment, but the Luxury Tax would have eaten me alive, not to mention the cost of the divorce.
The flight home left early so we were up long before the Crack of Dawn and on our way to the airport.  There I encountered the Canadian version of the TSA, who were even more thorough than the ship security people.  Very politely, they confiscated my corkscrew.  I understand what a dangerous instrument a corkscrew is on an airliner with an armored and triple-locked cockpit door, and no doubt I was properly chastised for having inadvertently tried to sneak such a Weapon Of Mass Destruction on board.  Probably the pilot of the German Wings plane had a corkscrew in his pocket when he flew it into a mountain.  So that just goes to show you, you can't be too careful.
The flights were uneventful except for a 5-hour wait in Chicago, and two kids in the seat behind me on the commuter plane that got us to Roanoke at 1:45 AM.  The kids didn't make noise but one of them pooped his diaper twice: the smell of raw sewage informed me this had happened.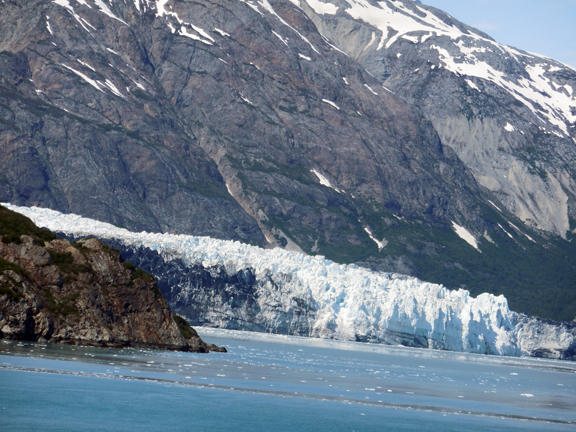 So: glaciers, totem poles, eagles, moose, otters, seals, the ass end of a single Arctic marmot, lots of trees, snow-clad mountain peaks and all, it was nice—but it's good to be home.
---