THE CHRISTMAS TREE FLEET
---
Except where noted, all photos courtesy of Dave Keener, DGIF
---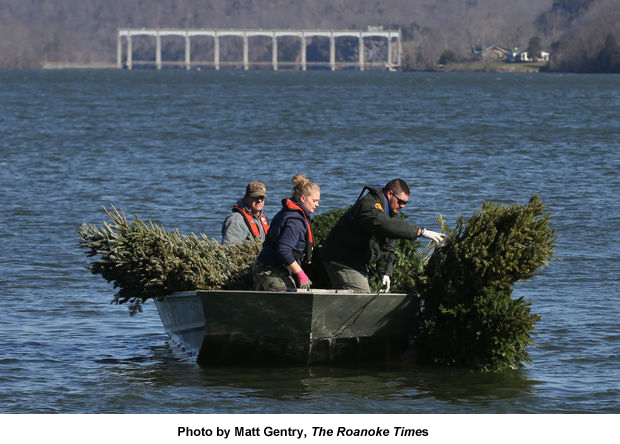 As a volunteer in the Complementary Work Force program run by Virginia's Department of Game and Inland Fisheries I get to do things to enhance the outdoor sports that are DGIF's main mission. My "assignments" with the CWF have been pretty varied, ranging from stocking fish to writing kill permits, and now building "fish habitat." All in all I've found it to be a very worthwhile use of my time.
---
I spent a day helping to create fish habitat in Claytor Lake, about 15 miles from where I live. Claytor Lake is a 4500+ acre impoundment on the New River, built in the late 1930's by Appalachian Power as an electricity-generating project; it's a major recreational resource for this area. Boating and fishing are prime recreational opportunities at Claytor.
The lake is now nearly 80 years old, and whatever original bottom structure was present when it was filled is more or less gone, rotted away or covered in silt. To maintain the excellence of the fishery takes some work, and one of the things that's important is creating fish habitat, places where small bait species can hide and breed, so that the bigger game species sought by sportsmen (striped bass, smallmouth, and others) can have a reliable source of food. To this end volunteers like me are recruited to throw old Christmas trees into specific spots. It was interesting work, and while it was something of a fatiguing exercise, on the positive side I now know a few places where to throw a line this summer!

About 25 people showed up for the event. Some of them were employees of the Commonwealth's Department of Conservation & Recreation, as the drop locations were within the boundaries of Claytor Lake State Park. I and Dave Keener, the DGIF volunteer coordinator were there, as well as several members of the group "Friends of Claytor Lake" (FOCL), which group has long been involved in fish habitat creation.
I met Dave at the state park at 9:00 AM, and he and I and some of the others started things off by stacking large numbers of concrete blocks on the dock. Most of these were donations from concrete firms and/or construction companies, but some of them were salvaged from a building site: these latter were real monsters: 85+ pounds, from a site where a building or whatever had been dismantled. The rest were new, mostly the standard size you buy in Home Depot. There were perhaps 200 old Christmas trees, donations from area residents, that had been piled up on the shore. After stacking the blocks at the water's edge we started on the trees, dragging them out along the dock, where the boats would pick them up. This was fairly easy labor, except for those huge blocks. They pretty much required two people apiece to move and stack.
---
After that was done, Dave and I went out with one of the C&R employees to mark out the areas in the lake where the trees would be dropped, using orange buoys. This took up a goodly part of the morning, as placing the buoys required some finesse. The water had to be deep enough for the trees to be covered, but not too deep. The boat had a good depth finder and the areas had been "treed" before, so the boat driver knew pretty much where he had to be. Piling blocks and marking sites took most of the morning: at 11:30 we went into the park conference center for a lunch prepared by FOCL: excellent chili and corn bread, all homemade and very good. Plus coffee, which was very welcome as it was COLD out there, well under 25 degrees.

Then it was time for main event.

There were three or four boats: two were very large DGIF-owned jon boats and one was a large pontoon barge. Each boat pulled up to the dock, where it was loaded up with blocks and trees. The trees had already had holes drilled into the trunks, and short ropes threaded through the holes.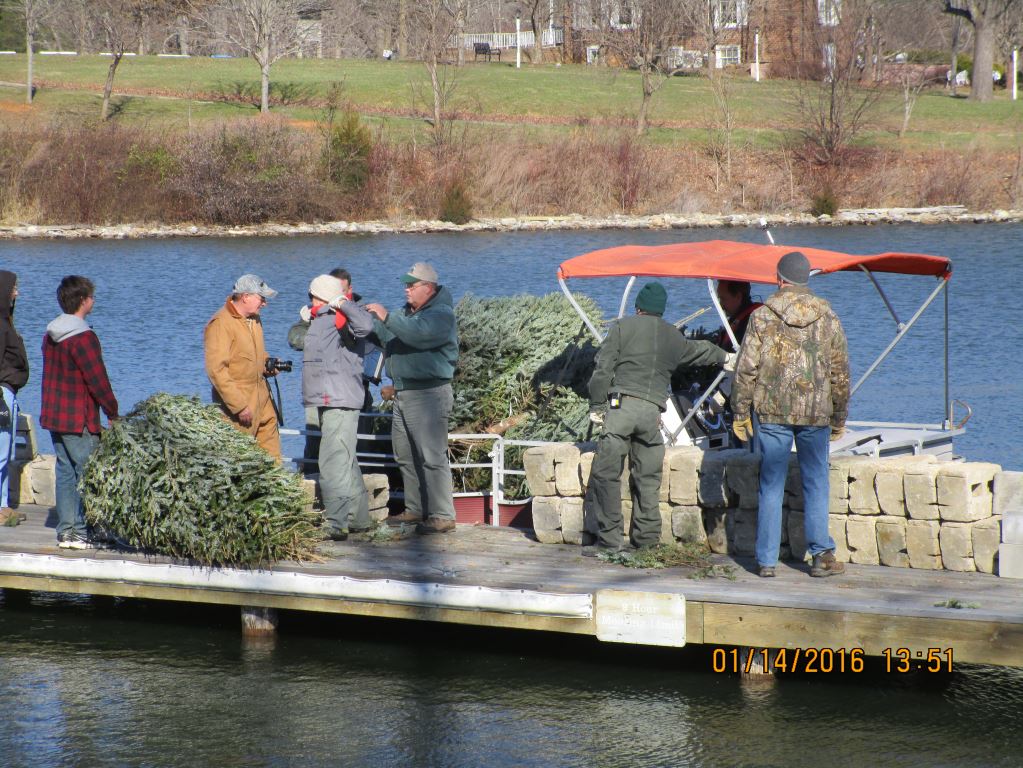 When I say "loaded up," I mean it. Our boat took about 15 trees per trip. That may not sound like a lot, but 15 full-sized Christmas trees is a great deal of bulk, even for a big jon boat. They were piled high in the bow, so that the driver had to stand to see where he was going. And of course we had 2-3 concrete blocks per tree. Some of those trees must have come from homes with very high ceilings: a few of them were easily 10 feet tall, although there were many smaller ones and a couple of "Charlie Brown Specials" as well. Big trees got two blocks, small ones got a single block each.
We motored out to the buoyed areas, and started heaving blocks with trees tied to them over the side. Needless to say we all had on floatation jackets, as getting a rope around your foot would have been certain death otherwise. At least with the jackets, we had at a chance of staying up long enough to cut the rope and pop to the surface. We'd been advised during the safety briefing to have a knife handy in case we did get pulled overboard. Luckily this didn't happen!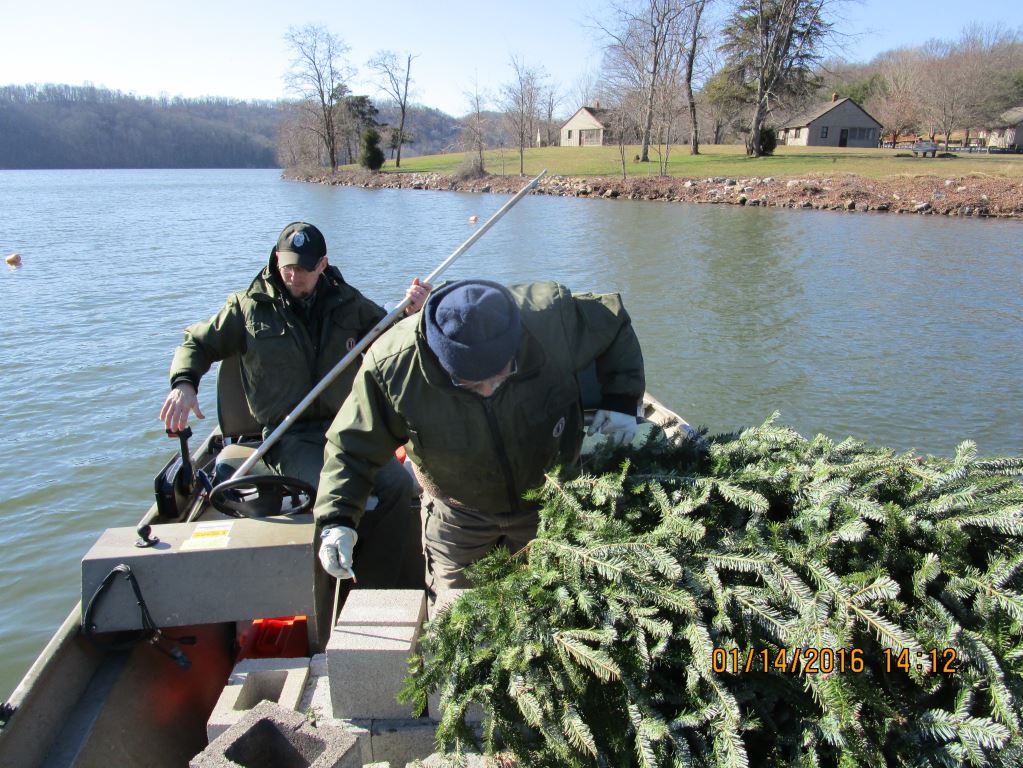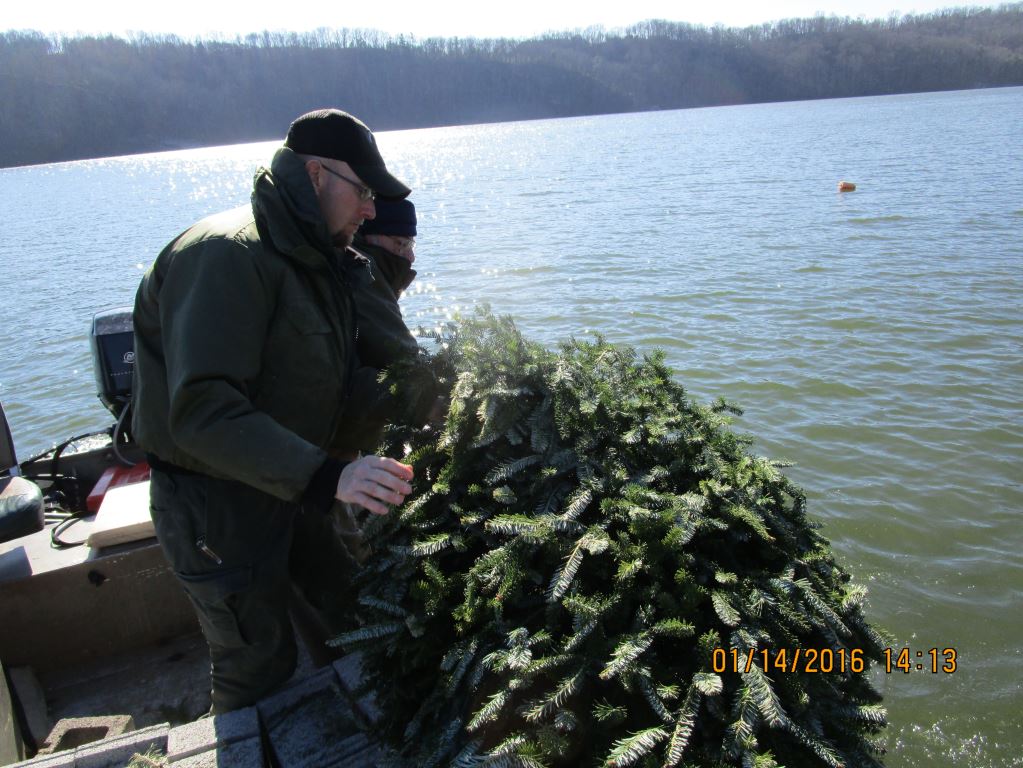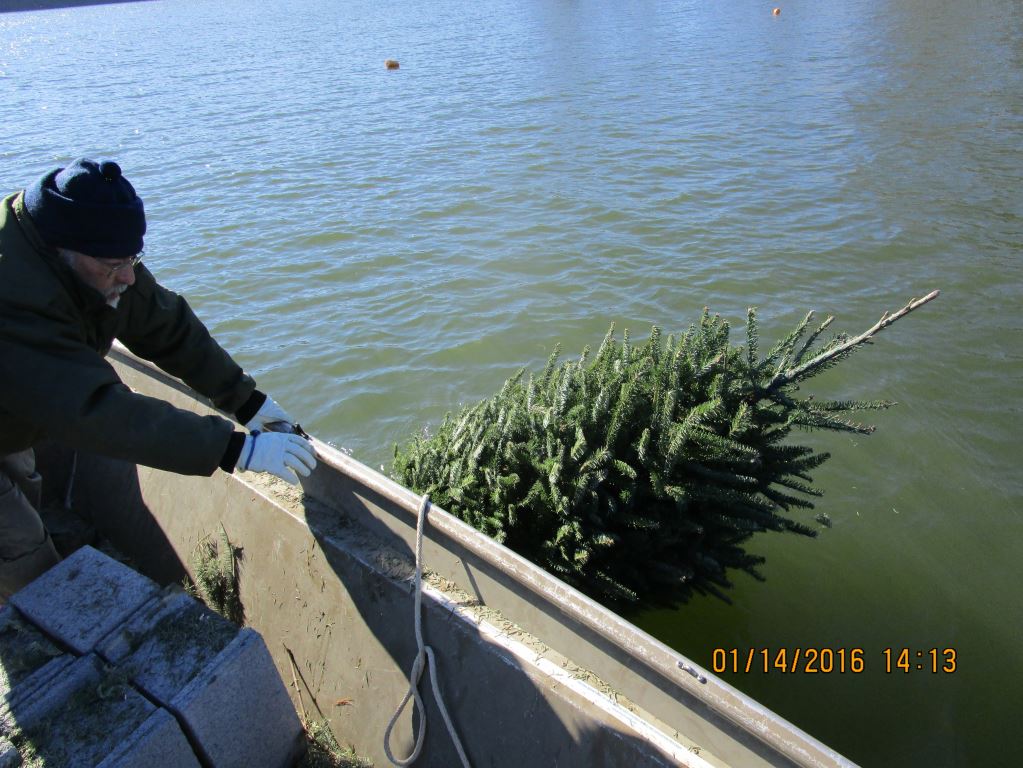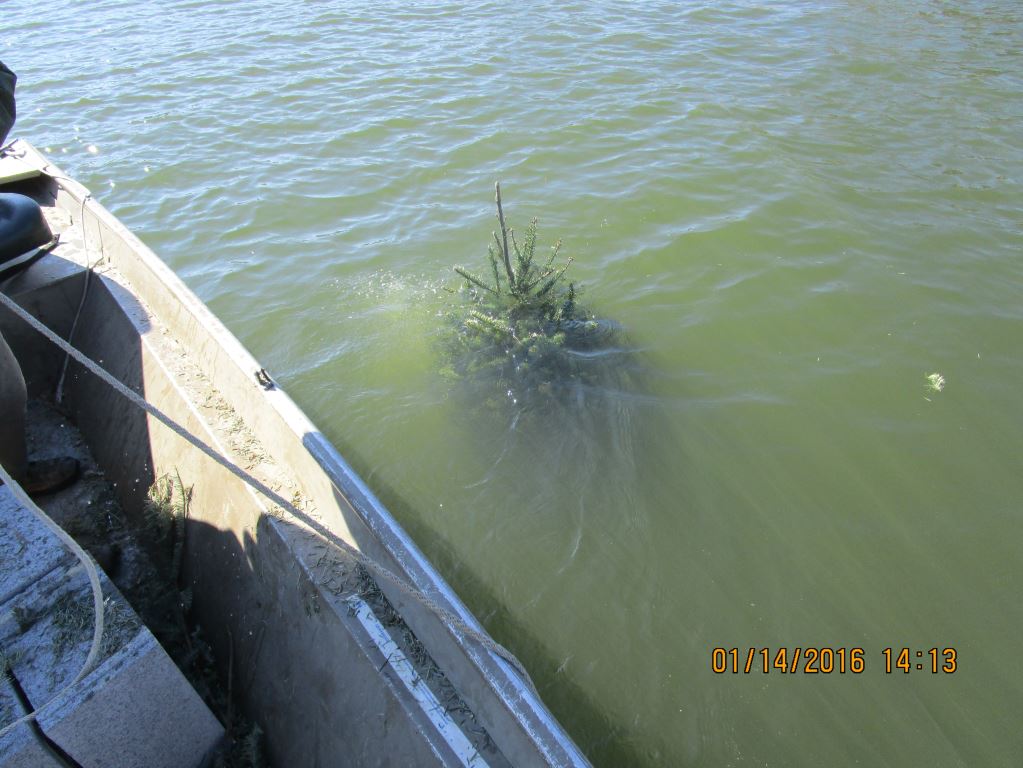 My boat dropped 65 trees, making about 5 trips. After all the trees had been dumped we went back to the dock to get some scrubby brush that had been added to the piles. All in all, about 200 trees were set out. We finished about 3:30 in the afternoon.
In the course of the day, I stacked blocks, tied up trees, threw blocks and trees overboard, and eventually got to drive the boat: and I did NOT fall in the lake. Since I have a history of falling into lakes (I once fell into Lake Tahoe) I regard the latter non-achievement as a victory. At the end of the day I was pretty worn out, but I'm glad to have done it.
The local newspaper (the Roanoke Times) covered the event, taking many photos. The photographer actually had a drone for bird's-eye shots: the first time I've ever seen one of those things in action.
All in all, I have to say the Complementary Work Force has been a good experience, and I urge any of my readers in Virginia to contact DGIF about volunteer opportunities. I'm sure similar programs exist in other states, as well.
---
| HUNTING | GUNS | DOGS |
| FISHING & BOATING | TRIP REPORTS | MISCELLANEOUS ESSAYS |
| CONTRIBUTIONS FROM OTHER WRITERS|
| RECIPES |POLITICS |