THE SHIP IS THE TRIP: A VIKING BALTIC CRUISE
---


We have returned from a cruise in the Baltic Sea and part of the North Sea aboard Viking Sky, a brand-spanking-new ship in Viking Ocean Cruises' fleet.  Viking is better known for river cruises but recently decided to get into the lucrative ocean cruise market, and they've done it with their usual flair and attention to detail.
A word about cruise ships.  As someone who grew up in New York City at the very end of the era of the great transatlantic ocean liners, I have been (and continue to be) somewhat ambivalent about the whole notion of cruises and more than a little dismissive of cruise ships as a class of vessels. I always thought—and still think—that those sleek,
beautiful liners berthed in the Hudson River piers on the West Side of Manhattan were the epitome of grace and elegance.  Their beauty was derived almost secondarily from the intent of their builders to combine safety, speed, and comfort in the performance of a specific function: travel between the Old World and the New.  Having a great passenger ship as part of a country's commercial maritime fleet was also a matter of national pride as well as an economic necessity.
The great ships are virtually all gone, the victims of fast, cheap air travel.  Most have been broken up for scrap and some sunk in accidents (I well remember the loss of Andrea Doria in 1956). 
The greatest of them all, United States, is rusting away at her moorings in Philadelphia these past 40+ years because no one has had the heart to destroy her nor the money to refurbish her.  No doubt in the end a great crime will be committed when she too is sent to the boneyard.  True ocean liners will never come back because the economics and technology of today make it impossible to justify their cost or even existence. (Parenthetically I have to add that since we've been pouring a billion-plus taxpayer dollars a year, for 40-odd years, down the AMTRAK rathole we really ought to pony up a few million more to revive "The Big U" and put her back in service: it would be a far more elegant way of spending money, if nothing else.)
---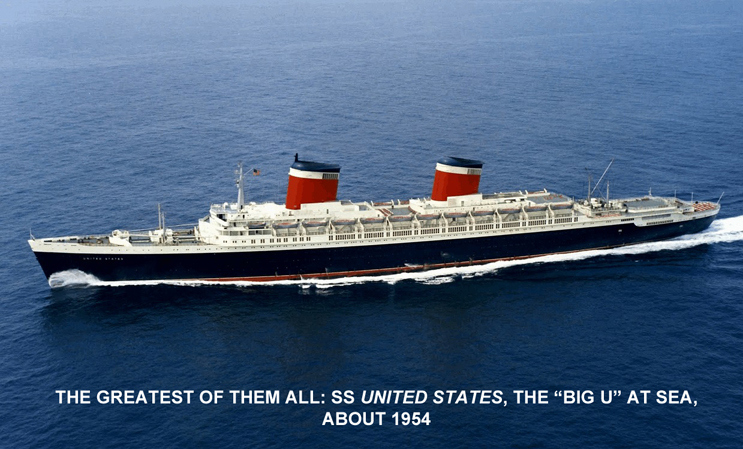 ---
Cruise ships are a different breed of cat, which pay their owners a profit.  But because they're designed for a different type of passenger and a different business model, they can't really be compared to the old ships, nor can they—or should they—be considered in any sense a form of "ocean liner." Cruise ships for the most part are huge, slow, fat, ugly tubs.  In appearance they usually resemble the cross-breeding of a container ship with a condominium building.  William Francis Gibbs, the man who designed and built United States, once described a "superliner" as:

A cantilever bride covered with steel plates, housing a power plant big enough to serve a small city, and with a first-class luxury hotel on top. 

The typical cruise ship takes this description to its ultimate conclusion.  Any pretense at elegance is superseded by the necessity to cram as many passengers as possible into the available length of deck space.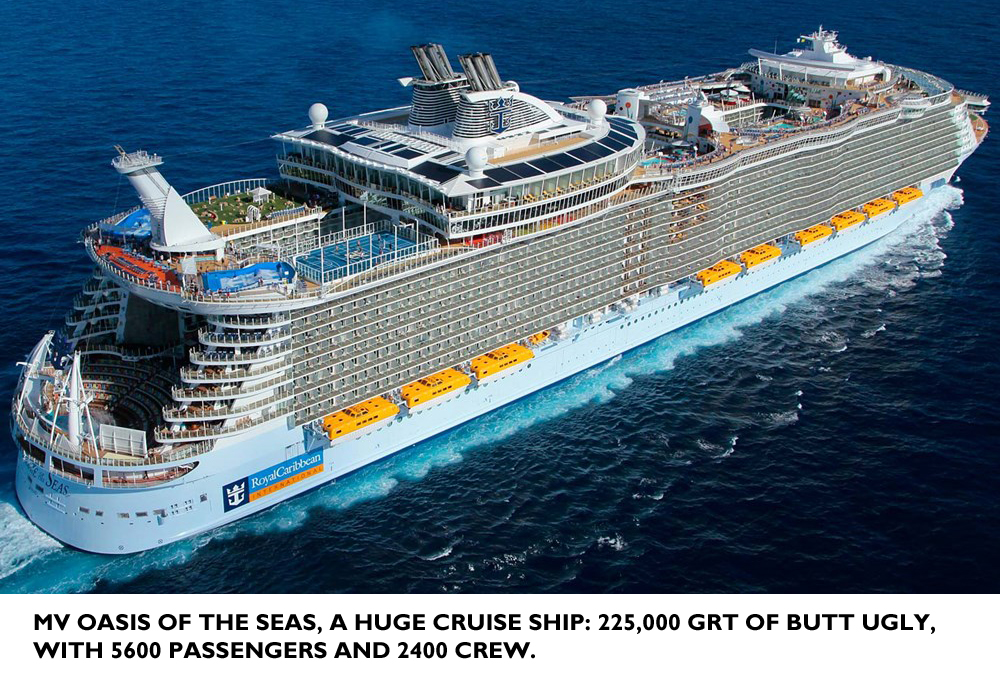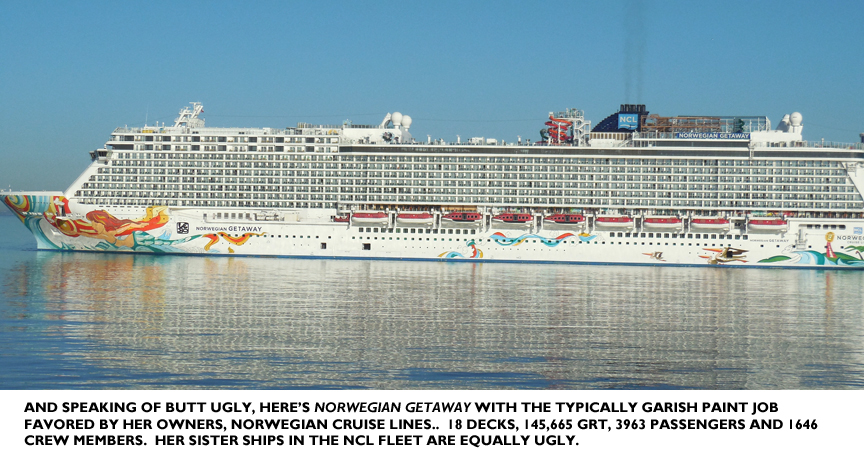 Consequently—as in tenement houses—the design dictates as many cabins as possible be stacked on top of each other, resulting in an absurdly high superstructure, and minimal open space.  The interior volume of the vessel is configured to serve meals and provide entertainment to as many as 4000 passengers at a time, restricting space for purely engineering functions.  In addition, to compete for passengers many newer cruisers include such things as swimming pools, day care centers, water slides, thrill rides, and sometimes even a decent sized full blown amusement park. Dedicated cruise ships keep getting bigger and bigger, stubbier and uglier.  At least one behemoth of 230,000 gross registered tons, Symphony Of The Seas, has just been launched and even bigger ships are in the works.  Symphony Of The Seas is built for a passenger load (not including the crew) of 6870 people: that's larger than the population of some Virginia counties! Compared to these monsters, Viking Sky really is a "small" ship at only 47,500 GRT.
---
Viking made its reputation offering river cruises, as anyone who watches TV knows (especially if you watched Downton Abbey).  The river ships are not much more than elegantly-appointed barges that could never dare venture out into the open sea.  But Viking has made such a name (and so much money) on river cruising that they've now ventured into the ocean side of the business, and in doing so designed a ship (actually four identical sister ships) in keeping with their corporate philosophy about how and why ships should be built.

Of course Viking Sky is a cruise ship, so she shares some of the features of cruise ships in general, but she is far less offensive to the eye than she might have been.  By today's standards she's considered "small," only 47,500 GRT with a maximum passenger load of 930, fewer than might be found on a single deck of, say, Oasis of the Seas.  This makes her much more like the liners of yesteryear than might have been expected.  She was built in Italy by Fincantieri, SpA, who have a contract with Viking to build their ocean vessels.  Italian ships of the Good Old Days were notably sleek and streamlined, like their automobiles.  Making allowances for the fact that she was designed for the cruise trade and not transatlantic service, so is Viking Sky. 
She has a "yacht bow," widely flared to fend off spray, and though her stern isn't the graceful "spoon" shape of, say, United States'  neither is it the straight, flat stern of the bigger cruisers.  It has some sort of low, flat, extension at the water level whose purpose I don't know.  Sometimes on other ships these are for people to swim from in warm water, but I don't think that's what it's for.  Leaving that odd stern aside, Viking Sky  is in my opinion a very pretty ship; especially when compared to the tubs shown above.
---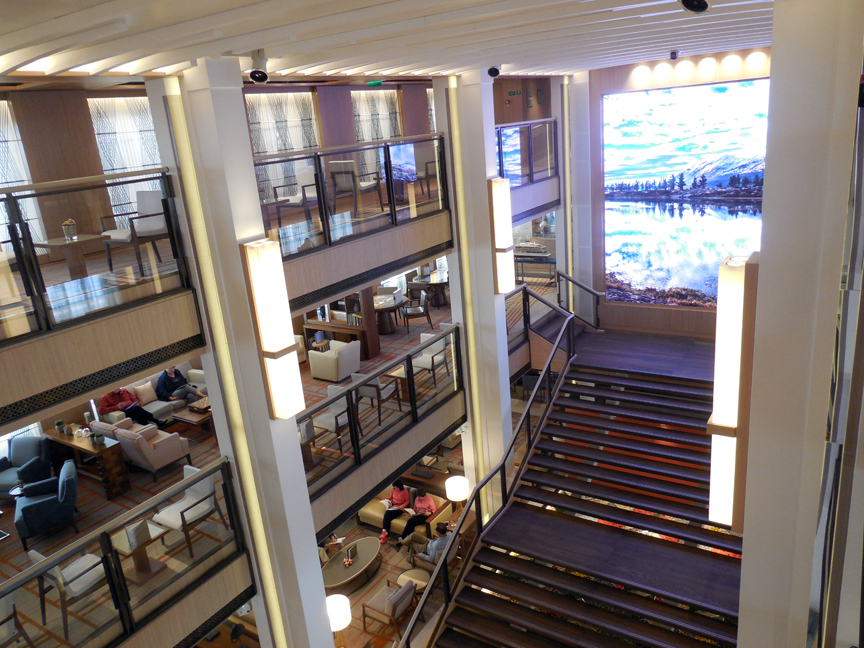 The interior spaces of Viking Sky are done in "Swedish Modern" style: light colored wood, earth toned carpets, and a considerable amount of artwork all over the place.  In terms of the décor, everything is harmonious and coordinated.  The core of the passenger space is a large, airy, open atrium, three decks high (I wondered what would happen if the ship were breached and it filled with water…) very comfortably furnished for sitting, relaxing, reading, and just enjoying the luxurious surroundings. A chamber music trio plays in the atrium (next to the Steinway grand piano), tootling away at relaxing melodies.  They're spelled by the on-board guitarist, the on-board pianist, and when none of these artists are on duty, by the P.A. system that broadcast soothing not-quite-Muzak stuff. I will mention here that to my great satisfaction not once did anyone play anything by Elvis Presley: this in contrast to the music aboard Pacific Princess, which was more or less a continuous tape of Frank Sinatra alternating with The King.
---
In addition to the atrium there are other lounging areas: The Winter Garden (in which "high tea" is served daily), the "Explorers' Lounge" (whose couches are overlain with reindeer hides) which allows views out over the bow.
There are also a couple of bars with "night life" type entertainment, one large and two small theaters, and probably a couple of other venues we missed.  There are three swimming pools (including that latest cruise ship gimmick, an "infinity pool" on the top deck, with a glass wall at the stern end).  There's a spa and a hair stylist.  There are on-board laundry and dry cleaning services, and wonder of wonders, small launderettes free for passenger's use. 
---
Cruise ships are very much about food: lots of it, all the time, and Viking Sky does food admirably.  "The Restaurant" is the main dining facility.  Very plush, like a high-end restaurant on shore.  There were two "optional" restaurants: the "Chef's Table" (with a varying fixed menu decided upon each day by the chef) and "Manfredi's," the obligatory but nonetheless very good Italian one.  Both of these required reservations but neither imposed an additional charge (unlike other cruisers).  There was also a less formal "World Café" whose thrice-daily buffets were almost obscenely abundant and varied.   Al fresco tables were available at the café and on the "Aquavit Terrace" (above) at the stern (where you could munch away while watching people cavort in the Infinity Pool).  
Add to this 24-hour room service, a grill at the main pool and one associated with the Explorers' Lounge and the nightclub. All the food was not only overwhelming in variety and amount, it was prepared and presented with the highest degree of quality.  Henry VIII or the average ancient Roman Emperor wouldn't have had cause to complain about the way we were fed aboard Viking Sky.  One other thing: beer and wine with meals were included.  This is true in the river ships,  but unheard of on other ocean cruisers.  We had to pay for drinks outside of meal times, or if we wanted anything else, but good-quality wine and beer were provided as part of the meals.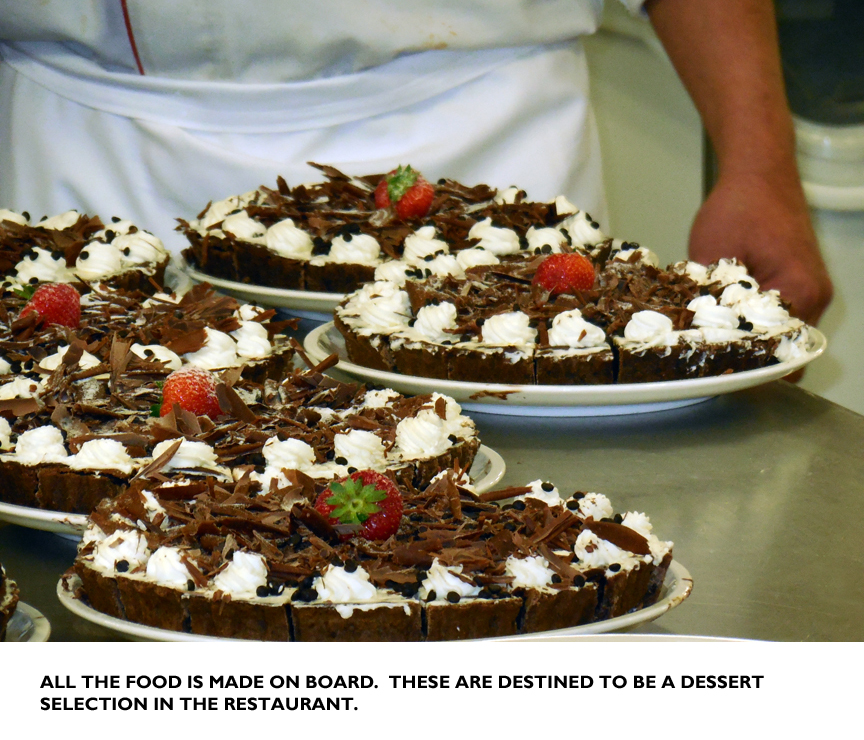 At one point we did a brief tour of the galley, acres of spotless stainless steel occupying most of the length of one deck and staffed by literally hundreds of chefs, sous-chefs, cookers, dishwashers, etc.  I asked one supervisor how much crockery and tableware was on board to feed 900-odd passengers and 700-plus crew, and was told, "We have no idea.  A lot."
---
One thing Viking Sky does not have is…a casino.  When reading through the literature pre-trip I noticed this was omitted from the list of amenities, and called to ask about it, because so far as I know every other ocean cruiser in the world has one.  I was told, "No sir, we don't have a casino.  It's not part of our philosophy.  Viking is about travel being an educational and enriching experience, so there are no casinos in our ships."  Given that based on what I've been told most ships (especially in the Caribbean) are about drinking, gambling, and spending money on souvenirs, I wonder if a) the take from a casino would be insignificant in the ship's profit margin, and/or b) it was a way to "upgrade" the passengers carried.
---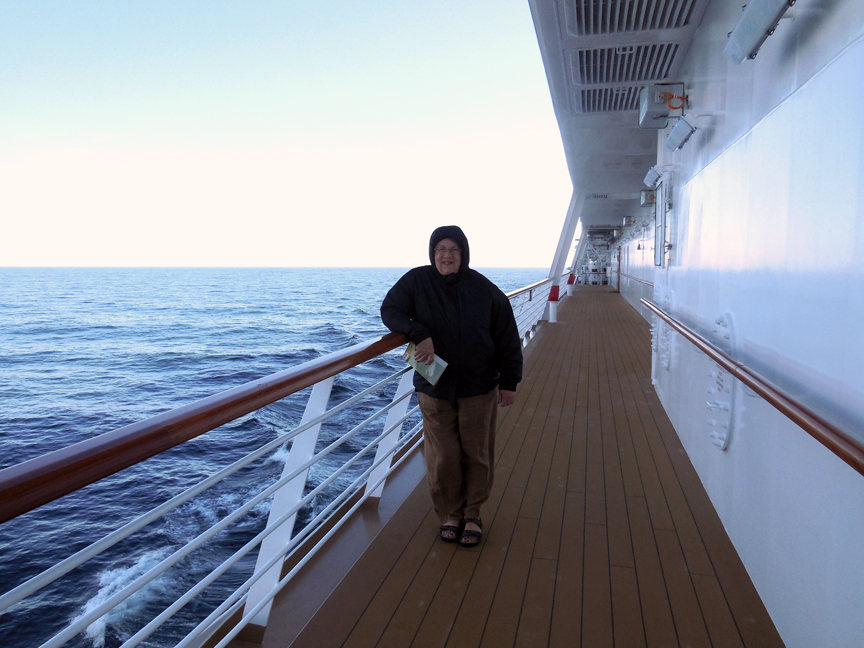 A lot of people are concerned about seasickness but modern ships actually have deployable stabilizing fins that minimize roll in rough water.  Most of the time you couldn't tell Viking Sky was moving at all, though the night we left Copenhagen we had some rough weather and it was a bit bouncy; the Captain scratched off the port of Aalborg (at the tip of the Jutland Peninsula) because it was too dangerous with the wind and sea state to go in.  When we were in the North Sea running up the coast of Norway you could feel some movement, but 99% of the time in the Baltic proper the sea was calm, with minimal wave action. 
---
As to the passengers, well, to paraphrase Katherine Anne Porter, it was a "Ship of Geriatrics."  Very well-to-do geriatrics at that.  If there were as many as 40 passengers under the age of 55 I'd be surprised.  We (both in our late 60's) were probably on the younger end of the age-distribution curve.  Everyone was friendly and we sometimes shared a table in The Restaurant as a way to meet people.

Cruise ship conversations between passengers run to a pattern:

Q.  Where are you from?
Q. What do you do?
Q. Is this your first cruise? Have you sailed with Viking before?
Q. Have you done any river cruises?

I noticed a tendency to "one-ups-manship" in these exchanges.  When we mentioned that we'd done two river cruises, we were invariably told that "We've done X river cruises" (X always being higher than two) and then we moved on to a comparison between Viking and the other ocean cruises the conversant had taken, and where; and which one(s) he/she/they liked best.  Since we were probably the poorest couple on board, and had only done one other ocean cruise (aboard Pacific Princess) we were not competitive in this duel, especially with people who were doing "back to back" cruises, staying on board for a month or more. After disposing of the preliminaries you move on to more intimate topics, such as grandchildren,  what port stops were next etc.  It's also quite acceptable to praise the country last visited, and discuss why life there is so much better than in the USA.
---
The staff and crew were exceptional.  It was obvious that ship's policies and discipline are strict and strictly enforced.  Every passenger was greeted with a smile and "Hello, I hope you're having a nice trip!" by every crew member at every encounter: even the roustabouts who worked the hawsers that tied the ship up to the piers would do this.  Crew member uniforms and personal grooming were immaculate, even that of the poor ladies who cleaned cabins all day, then had the turn-down-the-bed and deliver-the-ice-bucket duties.  The restaurant staff looked like they themselves had been dry-cleaned and pressed daily.  I suppose it was because their uniforms had been that they looked like that.  Personal grooming and dress standards for everyone were rigid and we never saw anyone with a hair out of place, dirty hands, or a missing button.  Senior staff wore Merchant Service type uniforms: dark blue with cuff rings to indicate rank, plus a name badge that told you whether someone was a "Waiter," "Assistant Waiter," "Headwaiter," "Chef," "Assistant Chef," etc.
---
Viking Sky is flagged in Norway.  Most cruise ships are flagged in places like Malta,  the Bahamas, Liberia, Panama, or Mauritius.  The one flag you never see flying on a cruiser is that of the United States.  Why?  Because American ships have to deal with US labor laws and worse, with the Seaman's Union.  So they fly "flags of convenience" which lowers operating costs and insurance rates. The fact is that the US merchant fleet for the most part doesn't exist.  Foreign flag ships can't legally carry American citizens between US ports, so the only US flag vessels carrying American passengers are those running on the Mississippi River and (perhaps) the ones that do east coast ports like Maine.  The "Jones Act" of 1924 that imposed this restriction was supposed to protect US sailors but in the end it destroyed the American merchant marine.
The crew were international in origin.  We encountered crew members from the UK, Zimbabwe, South Africa, the Philippines, Thailand, and many other countries.  The Cruise Director was an American from Utah. The Director of Shore Excursions was a Yorkshireman living in Ukraine.  Some of the singers and dancers also sounded like Americans, but who knows?  The cleaning staff were almost all Asian, I'm guessing mostly Thai.  The galley crew and dining room crew members were mostly Filipinos. Everyone spoke perfect English, which is undoubtedly one of Viking's requisites for being hired.  They sign on for 6 months at sea, during which they work more or less non-stop; then a few months at home, and back again for another stint.  Since there's no place for them to spend any money no doubt they save most of their pay or send it home to family; and I'd bet they're making far more aboard a ship than they could ever make back where they came from.
---
Although for me (as the title indicates) the ship was the principal attraction on this vacation, we did have port stops and several interesting excursions.  We departed from Stockholm, and hit Helsinki, St Petersburg, Tallinn (Estonia), Gdansk, Berlin (sort of), Copenhagen, and in Norway, Stavanger, Eydfjord, and Bergen, Viking Sky's home port. We made all our arrangements, including air travel, through Viking and the local travel agency we use. 
Viking is organized.  If the ship is a smoothly-running machine, so is the rest of their operation.  Viking arranged hotel accommodations in Stockholm, handled the logistics of the shore excursions, set up airport transfers, and made everything go as seamlessly as possible.  It's hard to imagine how detail-oriented one has to be to do this kind of work, shepherding thousands of clueless people from place to place and never losing one (the shore-bound tour guides counted heads every time we re-boarded the bus), making sure our baggage was moved from place to place when needed (we were met at the Stockholm airport and conveyed to our hotel along with our bags.  When disembarking, we were taken to the airport in Bergen where we were greeted by a veritable army of Viking-hired porters to get us onto the flight home) and so forth.  Literally thousands of employees and contractors are involved and the operation was totally seamless.  We can't praise Viking's organizational skills too highly.
Many shore excursions were included in the price of the ticket. Other excursions were "optional," which meant you had to pay for them. Some port stops included so-called "panoramic tours" of wherever we were: i.e., we were herded into a bus and driven around to see things, usually with a stop for photos at some viewpoint. Then we'd be released on our own recognizance for a short while, told where to meet the bus back, and eventually brought back on board in time to sail.  Sometimes we did guided walking tours.  Viking uses a very clever little semi-radio thingie for these.  You tune the device to the channel that corresponds to the number of your bus; the guide has a paddle with the bus number on it, and as you follow her around (like ducklings waddling after Mama) she speaks Tour Guide-ese in your ear even if you've wandered away from the group a bit.  The red paddle tells you where she is and you can always get back to her unless you're really lost. Since half the tourists are women, and since you can't take a piss in most of Europe without paying for it, the local guides were supplied with coins they disbursed as needed.
---
Probably the most interesting shore trip was in St Petersburg.  We did a "panoramic tour" on our way to The Hermitage (above).  This colossal palace was originally Catherine The Great's immense art collection, and is now a world-famous museum.  Here again Viking's organizational clout helped us out: they had arranged for our group to be admitted an hour and a half before the official opening time.  Thus we had the place more or less to ourselves most of the time we were there.  When we left a couple of hours later there was a line of cruise ship tourists around the block and probably a couple of hours' wait time for admission!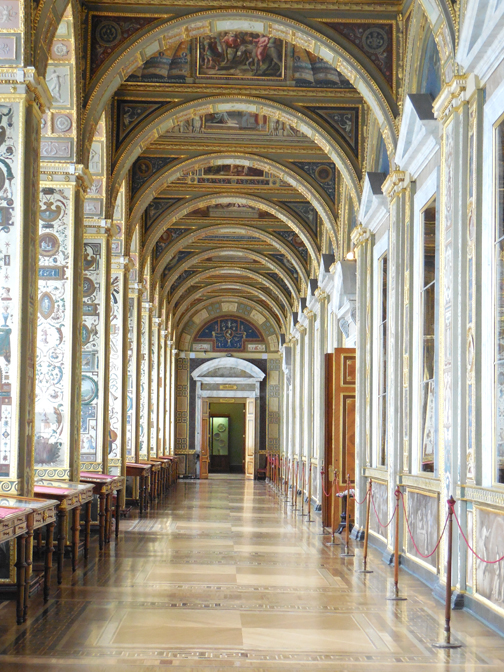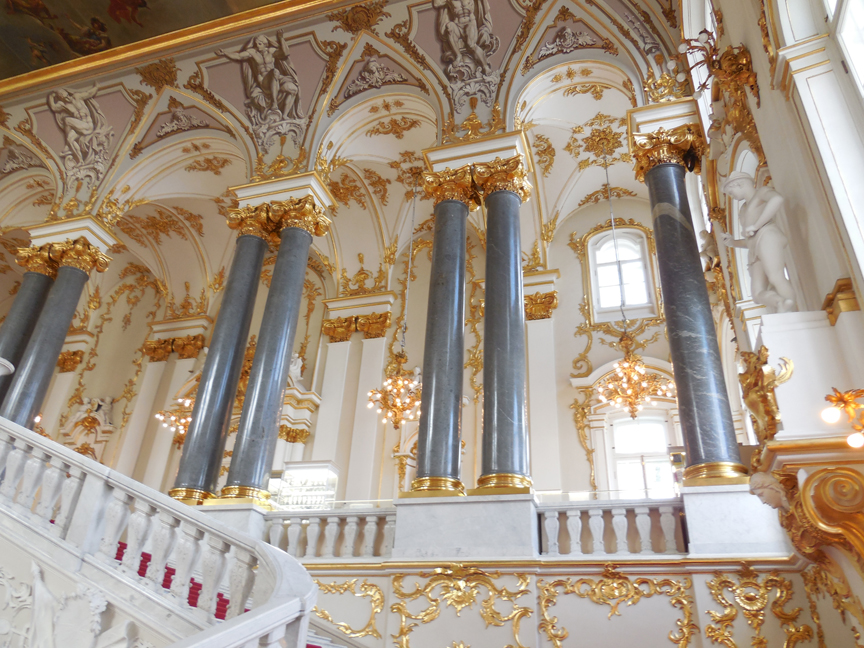 ---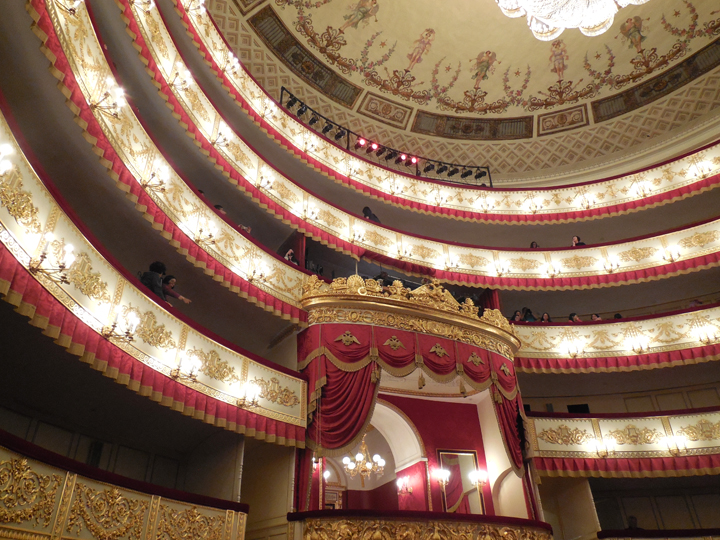 You can't go to Russia without seeing The Hermitage and attending a ballet, so we bought tickets for an optional evening performance of Swan Lake at the St. Petersburg Ballet.  I can deal with classical ballet, and ballet doesn't get much more classical than Swan Lake.  We were convoyed by Viking's red-clad employees who made sure we got to our seats, got on the bus home, counted noses, and brought us back to the ship. In the intermission we were given champagne on the veranda in front of the ballet theater, another nice touch.
---
The next day we hit the Peterhof, the "summer palace" of the Czars, an immense botanical garden and a "boutique residence" for people of unimaginable wealth.  We were repeatedly told how places like the Hermitage and the Peterhof symbolized the grandeur and power of the Russian Empire, and I'm sure knowing that must have been a great comfort to the enslaved serfs who were forced to build them and tend the grounds until dying of overwork.  Russia didn't abolish serfdom until 1861, about three centuries behind the rest of Europe. Places like The Hermitage and Peterhof make you understand why the Russian Revolution happened. It's worth noting, however, that the grandeur we actually saw wasn't original: the Germans pretty much knocked the Peterhof into rubble during World War II, and the post-war Soviet Communist government rebuilt it, from the ground up, exactly as it had been before. There is a certain amount of irony in the fact that as a matter of national pride, the palace of the Czarist oppressors was restored to its former glory by the revolutionary government that deposed its builders.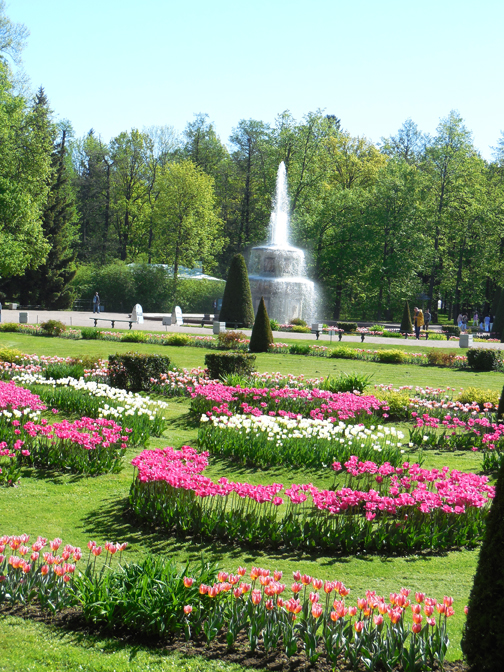 ---
Speaking of the Revolution, one thing I didn't get to see except from the outside was the cruiser Aurora whose crew mutinied in 1917 and joined the revolution that brought down Czar Nicholas II.  Aurora has been restored as a museum ship; I hope that Viking will add her to the St Petersburg itinerary as an optional tour because of her historic significance.
By the way, the Russians are still almost as paranoid as they were during the Cold War.  It was the only place where we needed to have our passports with us on shore: all the other countries only required us to have our boarding card, and really that was just to get us back on board. (You get this card when you embark: it has your picture coded into it.  When you leave or re-board the ship a security officer makes you put it next to a reader: he sees the picture in the file, compares it to your passport, and logs you out of or into the ship.  It's the way they keep track of who is or is not on board at any given time.) But the Russians made us go through passport control BOTH ways, every time we left the ship and re-boarded it. 
---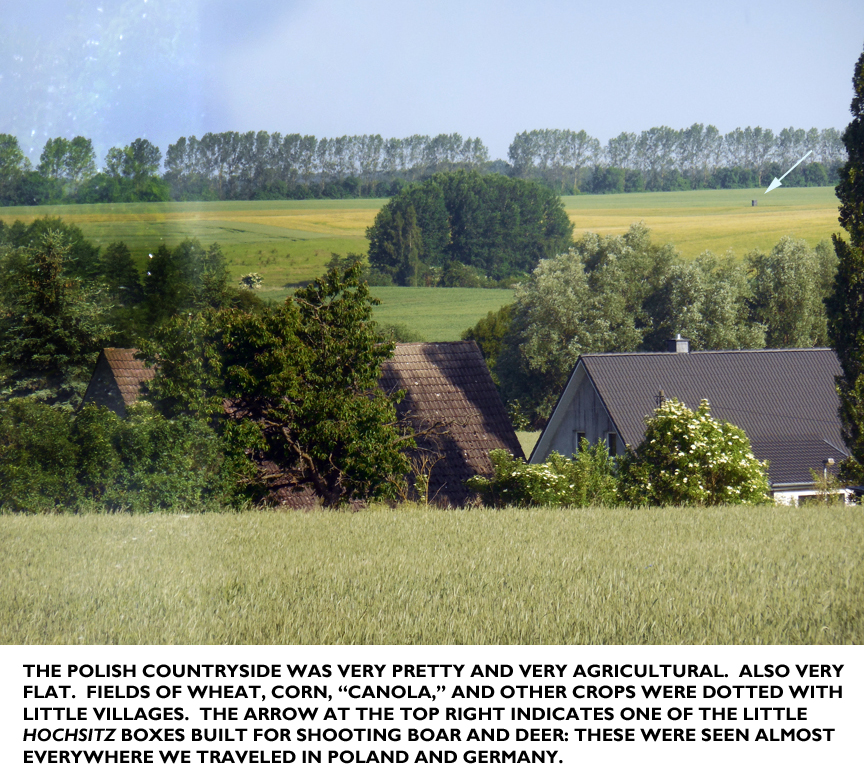 The most interesting optional tour was in Poland.  We went to the Stutthof Concentration Camp by bus from Gdansk.  I was surprised to hear that
several such camps have been preserved and are today tourist attractions: I know the Anne Frank House in Amsterdam is a big deal on the tour circuit, but "tourist-izing" concentration camps is a wholly different level of  merchandising mass death, and somewhat off-putting, to be honest. 

The Polish countryside we drove through was very pretty, and the camp was set in a very rural wooded area that was intended to conceal it from prying eyes (and Allied bombers).  Today a few of the buildings, as well as the crematory and "hospital" are preserved and made into exhibits.  It was a pretty grim place, though nowhere near so grim as it would have been in, say, 1944.  We were assured that nobody in the area at the time had any idea what the camp really was.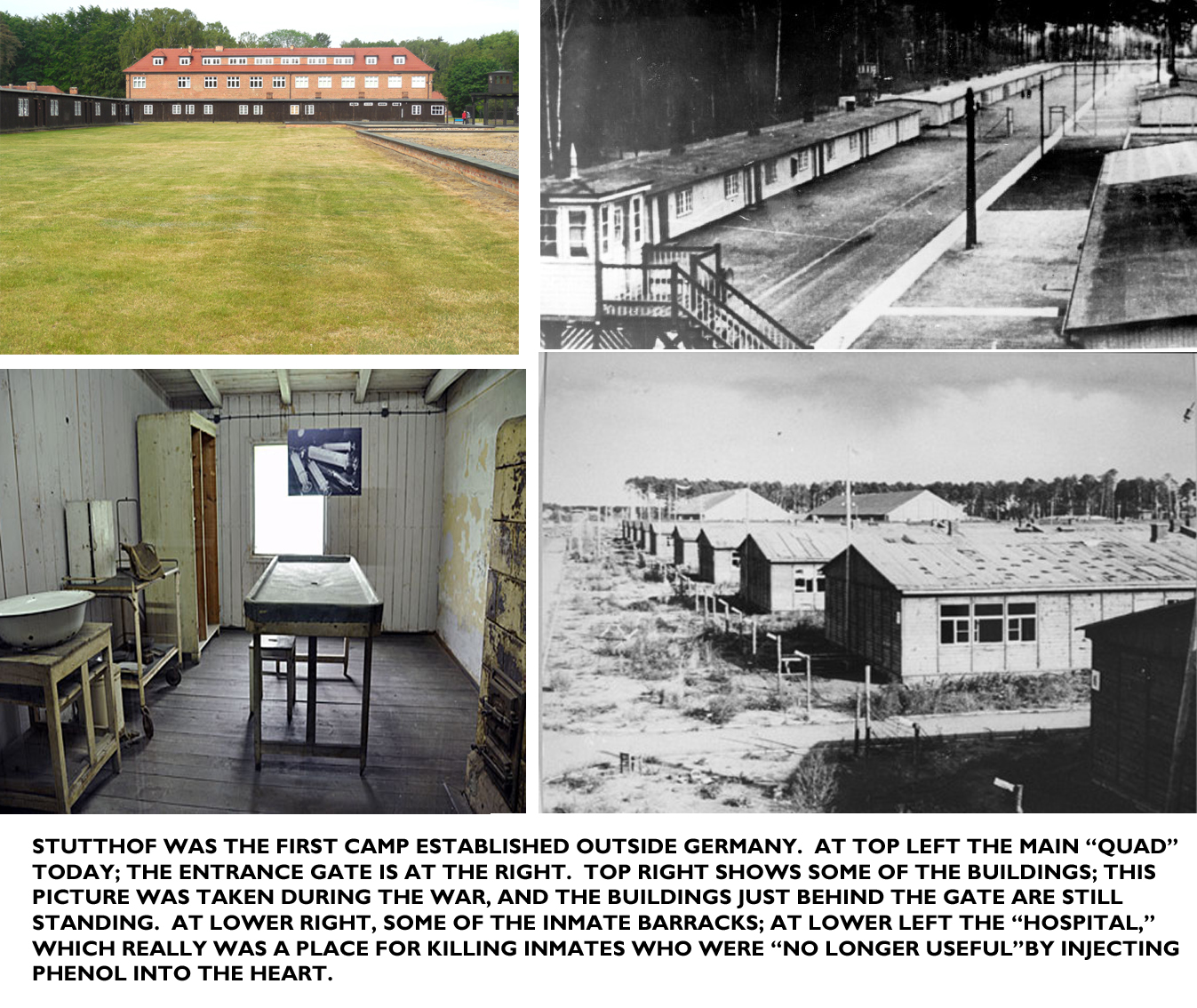 The Nazis had assured the local people that it was "a prison for Polish criminals" and I'm absolutely certain everyone believed that, if they knew what was good for them.  The stink of the place and the odor from the crematory (200 bodies per day on average) would never have given anyone a clue about the real nature of Stutthof, of course; and no curious kids would have been interested enough to sneak through the woods to see what they could see through the (electrified) barbed wire, no, no, of course not.  Tens of thousands of people died there and were turned into ash piles and soap, but just think, nobody but the Nazis knew! Isn't that amazing? And yes, there is a gift shop.
---
Copenhagen was very, very Danish.  We saw The Little Mermaid, and we saw a Not-So-Little Mermaid too.  As an optional tour we added an "Evening Jazz Tour" in a canal boat where five old guys played vintage jazz and Dixieland music.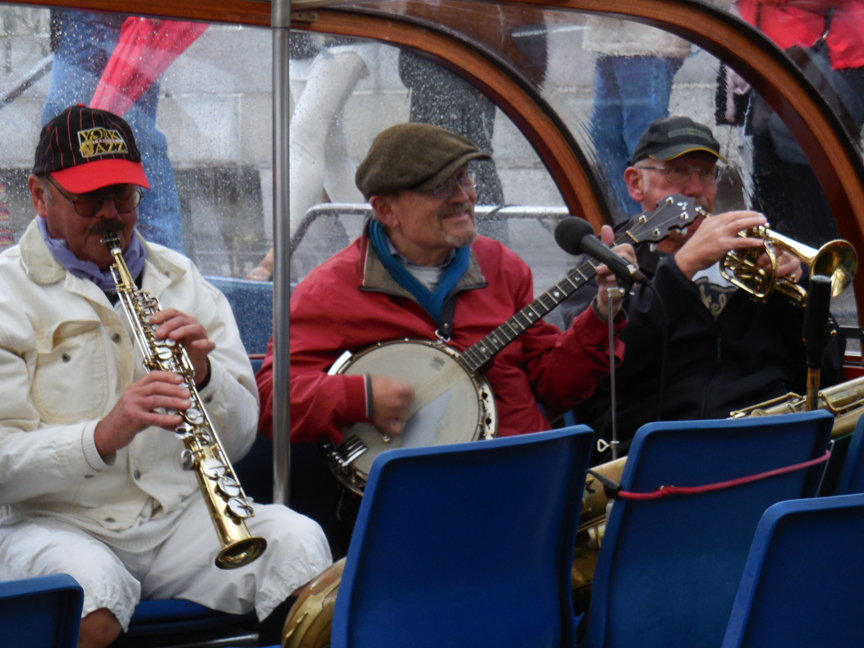 ---
We didn't spend much time in Berlin.  It's a 3-hour train ride from the port on the Baltic (Warnemunde) where we stopped, and in the end we had only about 4 hours.  We did see the main sights: "Checkpoint Charlie," the Brandenburg Gate, and a chunk of The Wall that's still standing.  There's no way to know if you are in "East" or "West" Berlin these days.  We had a nice (and expensive) lunch, and then headed for the pickup point and back to the ship.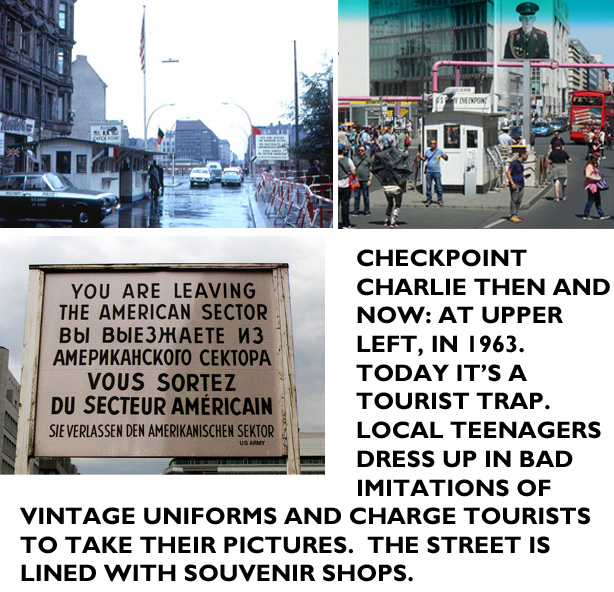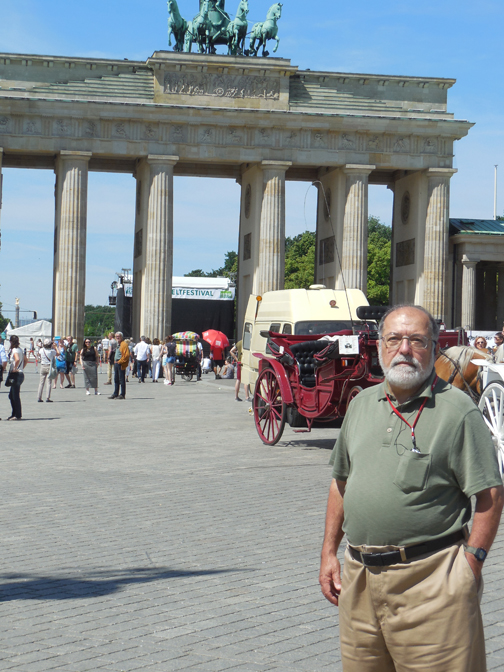 The north German plain is extensively farmed, and as the train clattered through it southwards I noticed that whenever we were in an area of open fields of crops, there were little shacks on stilts.  These are what the Germans call a hochsitz ("high seat") used for shooting boar and deer!  Any number of them were also visible in Polish farm country.  Wild boar are very common in these areas, as are roe deer, and this is one style of hunting  them.
---
Of the other shore excursions, most of them fell into the walk-around-and-look variety.  Viking has a stylized way of describing this sort of thing, which is mainly for smaller stops:

Stroll the ancient cobblestone streets of _____________, and marvel at the quaint and beautiful architectural features of the _______th Century buildings.  Get a magnificent view of the harbor and the Old Town from the massive Tower in the center of the area.  Dine on local specialties, and shop in the charming markets of ________ as you take in the flavor of the local environment.  Explore byways and meet local people who will charm you with their folkways and dress….etc., etc., etc.

I'd like to see Viking do such a blurb for, say, Newport or Pearisburg; but they can't get their ships up the New River.
---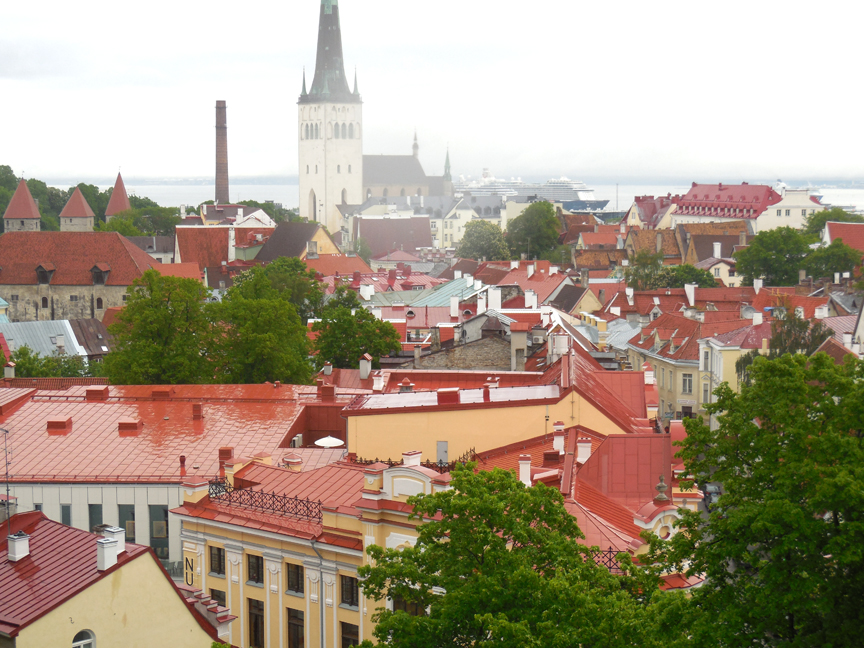 Of these smaller places, Tallinn was probably the most interesting and picturesque; but it was raining cats and dogs that day and additionally three or four ships had berthed at the same time.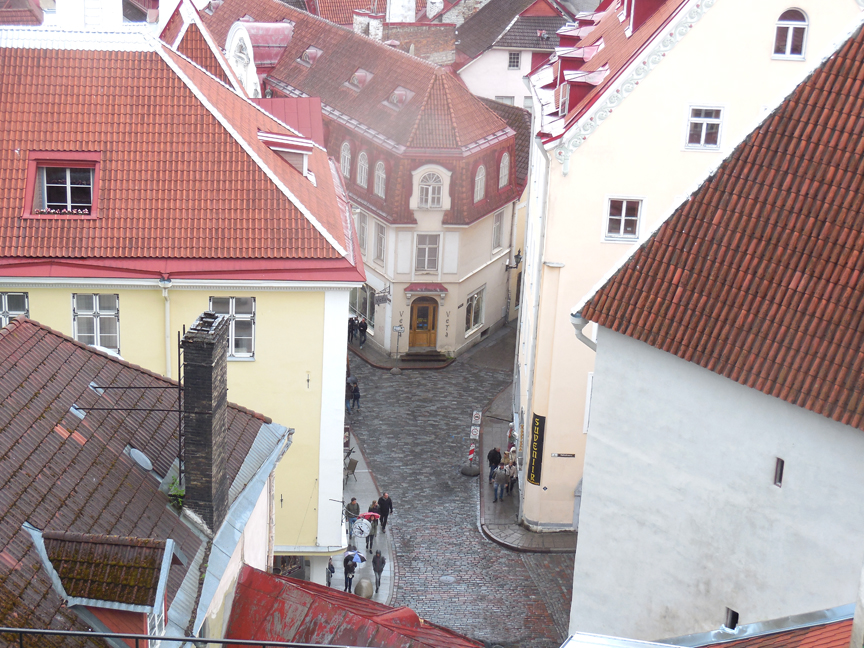 Viking Sky is a small ship, but when Behemoth Of The Seas disgorges 4000+ passengers, and Floating Palace Of The Seas does the same, the influx of people…well, it sort of ruins the "quaint and charming" aspects of  smaller locales.  In Tallinn and most other places we had to contend with hordes of people. That has been true on most of our trips to Europe, and it's one of the aspects of travel I find really unpleasant; but most people hit their vacation at the same time of the year, so it seems inevitable. These days the biggest single group of the Huddled Masses Yearning To Spend Freely seems to be Chinese.  A couple of the lines that run larger ships cater to this trade.  Any really significant venue was bound to be mobbed by Chinese tourists. 
---
The North Sea coast of Norway is deeply indented by fjords, steep-sided canyons carved by glaciers that have become inlets of the sea.  They're very deep and large ships can often get all the way up to the top of a fjord.  The smallest place we visited was Eydfjord, a village of perhaps 1000 people; Viking Sky tied up right alongside the town Post Office! 
Eydfjord hasn't much to offer as a town, but it boasts a very nice nature museum, highlighting the wildlife species to be found in Norway. These include moose, foxes, etc., many of which are also indigenous to Alaska. What they call reindeer we call caribou: same animal. The museum is built in traditional style, which means it has a roof on which grass is growing. Now, when you have grass on your roof, you have to keep it trimmed: and a roof isn't a good place to use a power lawn mower. So, traditionally, the roof lawn mower is...a goat.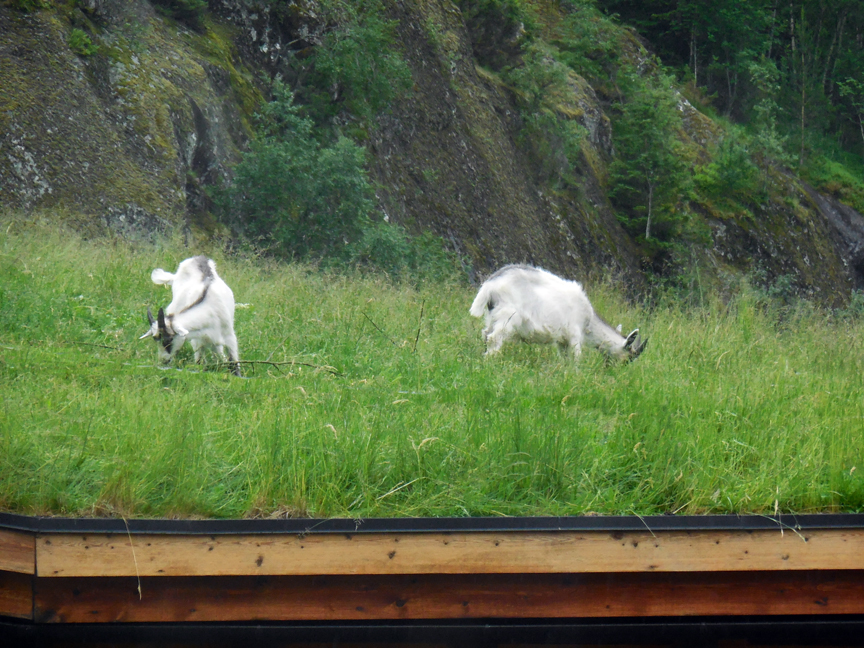 We saw a great many of these grassy roofs along the side of the fjords, but only at the museum did we see actual goats keeping the roof trimmed.
---
We also stopped in Stavanger, the "Oil Capital of Norway," where we saw a museum of the oil industry.  Oil from the North Sea fields has made Norway the richest country on earth per capita, and don't think the Norwegians don't know it! 
Stavanger being a busy port with some pretty heavy industry, there were some very interesting ships there, including one that I'm not even sure was a ship at all. It had a bow (of sorts) and a stern, and was floating; it didn't look like a drilling platform, but it had a derrick at one end, plus an amazing collection of pipes on the deck.  I think it was a drill ship, but I could be wrong.  It was stupendously ugly, but "form follows function" so if Viking Sky was built to be pleasing to the tourist eye, whatever that thing is, it too was built to do a specific job and its looks reflected that job.
---
Bergen, as one of the major towns of the Hanseatic League, has a very interesting history and we did learn a few things from the Hanseatic Museum and one devoted to deep-sea fishing, Norway's second largest economic venture.  These and the nature museum were very much the sort of thing Viking pitches to potential cruise passengers; we're museum-goers and enjoyed them.  Plus they have no appeal to most cruise ship passengers and we were able to enjoy them in peace.
Bergen is also known for its fish market. All varieties of seafood that the North Sea can produce—including whales and sharks—are sold here, raw and cooked. Norway is one of three countries that still permits whaling (the others are Finland and Japan) which doesn't make Greenpeace happy.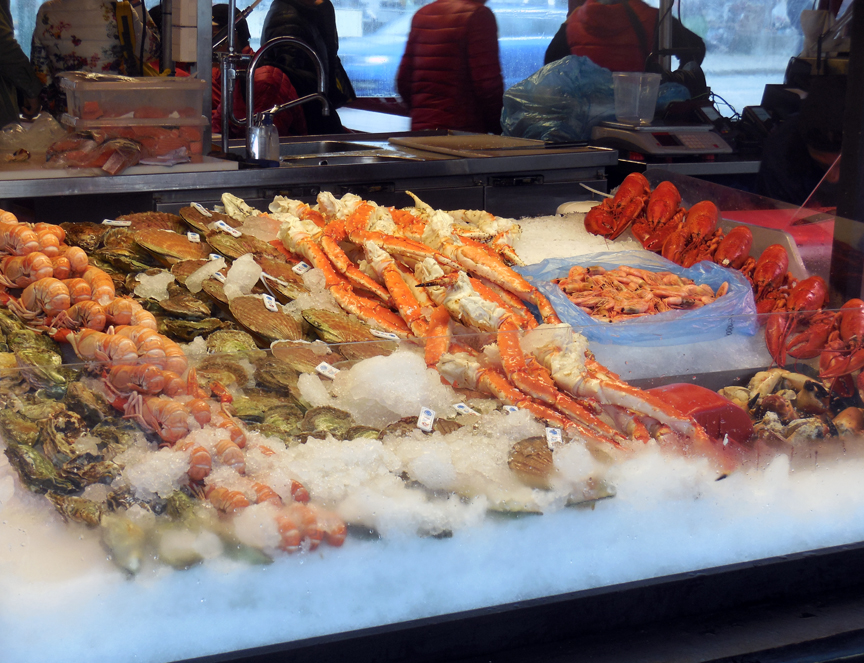 A whole shark was brought in that morning. The fish stand operator said that sharks couldn't be specifically fished for, but if they took one as "by catch" it could be sold. I suspect that if shark is a big seller, a fair number of "by catch" sharks end up on ice like this one.
---
A few things we learned on this trip:

· Norway is the Happiest Country On Earth, according to some organization that measures this sort of thing. They don't let you forget it, either. Notwithstanding the fact that 40-50% of their income is taken for taxes, that there is a 20% VAT on everything they buy (someone has to pay for that "free" health care), that despite the size of the country and the small population nearly everyone lives in an apartment because even a small house—if you can find one—is around $2-3 million,  that they have the highest level of alcoholism in Northern Europe, and that a staple of diet is dried codfish, they're deliriously happy, happy, happy.  Couldn't be happier. Denmark used to be the Happiest Country On Earth but for the last two years Norway has beaten them out in The Happiness Sweepstakes; and Denmark is very unhappy about it.

· The Nordic countries are beautiful, but not any more so than many other places we've visited.  Coastal Norway and the fjords looks much like coastal Alaska, though with more people and less wildlife. I was struck by the paucity of birds, even sea birds, in the fjords.

· The purported "diversity" of places like Copenhagen and Bergen is a myth.  Denmark and Norway are the whitest places we've ever seen this side of Minnesota.  We did see a halal grocery store somewhere in Denmark. All the Nordic countries have very low birth rates and someone has to clean the streets and pick up the garbage, so like other countries in Europe they import labor from the Middle East.  They will likely come to regret that policy, as have the Dutch and the Italians, not to mention the French.

· Whale-meat sausage, which we ate in Bergen, is OK, but given the level of processing and seasoning it could have been road-killed dog.  We didn't try the whale-steak sandwiches, also on the menu. No food vendor will believe you if you tell him that Americans aren't allowed to bring whale meat back with them; they try to sell it to you anyway.

· There is no place on Planet Earth that is free from the plague of graffiti, not even The Happiest Country On Earth or the Second Happiest Country On Earth.  We saw it everywhere we went.  It has not (yet) reached the ghastly levels seen in France, but it's there, even on the underside of bridge supports.  I would think that Russia would have been able to prevent it: if any country could adopt a policy of shooting graffiti taggers and leaving their bodies as a warning to others, the former Soviet Union could.


· There are some words that are the same in every language, even if the country speaks Finnish (a local form of Martian), Estonian, or Russian (which so far as I can tell is a dialect of Venusian):


Taxi
Bar
Restaurant
Souvenir
Hamburger
Coca-Cola
Subway
McDonald's
7-Eleven
Starbucks
---
| HUNTING | GUNS | DOGS |
| FISHING & BOATING | TRIP REPORTS | MISCELLANEOUS ESSAYS |
| CONTRIBUTIONS FROM OTHER WRITERS|
| RECIPES |POLITICS |