COLT'S NEW SERVICE REVOLVER
---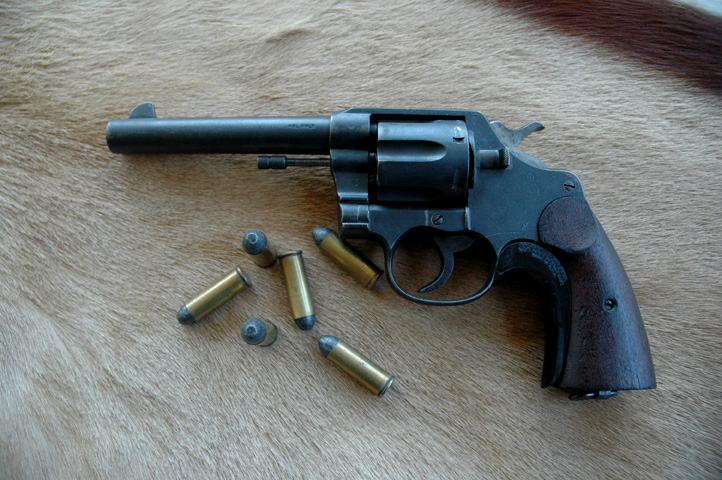 A BIG GUN! THIS ONE HAS BEEN FITTED WITH PLAIN WALNUT GRIPS
LIKE THOSE FOUND ON THE US'S "MODEL OF 1917" AND A PACHMAYR
GRIP ADAPTER TO BETTER SUIT IT TO MY HANDS
Colt's large frame "New Service" revolver was derived from the older "New Army Model," which was offered in .38 caliber. The New Service was an enhancement and improvement on that design with production starting in 1898. The New Service was made with minor variations until about 1943. It was a big .45 caliber gun intended from the start—as the name implies—for military use. Over the life of its production it was made in 18 different calibers, including the .45 Long Colt and (as the US issue "Model of 1917") in .45 ACP. Its robust no-nonsense design proved itself in battle in both the First and Second World Wars. It was also used by some non-military agencies, including the New York State Police and the Royal Canadian Mounted Police, in those cases in .45 Long Colt, a bruiser of a caliber well suited to stopping an aggressor. By the end of production some 356,000 had been produced.
New Service manufacture had reached 72,500 units by the end of 1914. As part of planning by the US Army ramping up for possible intervention in World War One, Colt received an order for 150,000 of the .45 ACP version, issuing it as the "Model of 1917," a substitute standard for the Model 1911 autoloading pistol. There's a belief the M1911 was used in combat and the M1917 revolvers were relegated to military police and garrison troops, but I have seen images of those New Service variants in combat with American troops.
But the US wasn't the only country to field this gun in wartime. The British Army was stretched thin in the first couple of years of the war and arms production facilities were running at full capacity to arm the millions of men who eventually served. Trench warfare of the time often involved raids and patrols in No-Man's-Land. In these activities handguns, more easily carried and deployed than rifles in a tight spot, found a great deal of use. The standard issue British Army handgun was the Webley Mark VI in .455 Eley; but production limits forced them to look for alternatives, and the New Service was an obvious choice. Colt began producing them for the UK chambered for the .455 Eley, to which the New Service was easily adapted. Between 1916 and 1917 more than 50,000 New Service revolvers were made, most of them made on contract for the British Army; they were accepted with enthusiasm and the big Colt gained an enviable reputation as a man-stopper in the trenches. I have seen several of these guns in regimental museums in the UK.
In 1967 I bought one of those British-contract Colts, at a time before the never-sufficiently-to-be-cursed Gun Control Act of 1968 cut off imports of ex-military weapons. My revolver, along with millions of other firearms from all the countries of Europe, came to the USA (literally in shiploads) sold off for desperately-needed hard currency as nations exhausted by World War Two re-armed with more modern weapons. In the mid 1950's the British had settled on the 9mm Parabellum in the Browning High-Power as standard issue, and thousands of Webleys, Enfield rifles and revolvers, and Colt New Service revolvers were sold off to American importers. I have no idea when mine was imported or who brought it in; I bought it at retail in a gun shop in Yonkers, New York. It almost certainly "came back home" sometime around 1958. Somewhere in its long life it had been refinished and had acquired a set of plain-vanilla wood grips of the type used on the Model 1917's. The ones I've seen in Britain all wore the hard rubber ones Colt used.

British law requires that guns of foreign origin be inspected and proofed before sale and/or issue in the UK. For military issuance specific marks were stamped on them including the famous "Broad Arrow" (at left). The heraldic term for this device is a "pheon" and it isn't strictly speaking a proof mark: rather it denotes ownership by the Crown, having been in use since at least the 16th century. Minor modifications are added to indicate issuance and ownership by Commonwealth countries, such as Canada, Australia, and South Africa. The Broad Arrow can be found on any article owned by the Crown, including binoculars, holsters, bayonets, and other implements; it's even stamped on the clothing of Her Majesty's prisoners! The "Broad Arrow" is modified into a "sold out of service" mark when the property is sold off. This mark is a second Broad Arrow, counterpoised to the first. These and many other markings can be found on virtually any firearm or other British or Commonwealth military surplus item.
My Colt was made for the 1916 contract so it was of course originally chambered for .455 Eley: that caliber was stamped on the barrel. Whatever company imported it had the chambers deepened to accept the longer .45 Long Colt (probably because .455 Eley is hard to find in the USA). Since the dimensions of the two rounds, except for length, are virtually identical, it was a simple modification to improve sales appeal to Americans.
THE OVERSTAMPED ".455 ELEY" MARK IS BARELY READABLE. THE WHITE ARROW
INDICATES THE BRITISH ARMY'S ACCEPTANCE MARK, A PAIR OF "CROSSED PENNONS"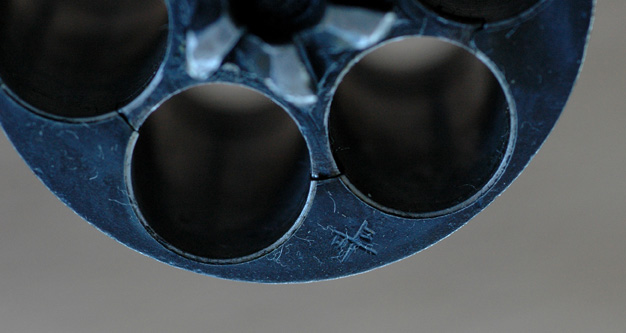 CROSSED PENNONS ARE ALSO FOUND ON THE REAR FACE OF THE CYLINDER
There are some puzzling features to my gun, mostly in the markings. First and most obviously the ".455 Eley" marking was overstamped neatly to ".45 L COLT" to reflect the caliber change. Other marks, including those of British military acceptance (a pair of crossed flags or "pennons") are present, as are one or two inspector's marks. Most interesting however is what is not present: there are no civilian proof house markings. When the Crown relinquishes ownership of a gun, before it can be legally sold in the civilian market or for export commercial re-proof is mandated. This is and was done most often in the Birmingham Proof House. Most such guns bear a "BNP" mark to attest to the re-proof. But this re-proof was never done to mine, for reasons unknown. Nevertheless the "sold out of service" mark is present.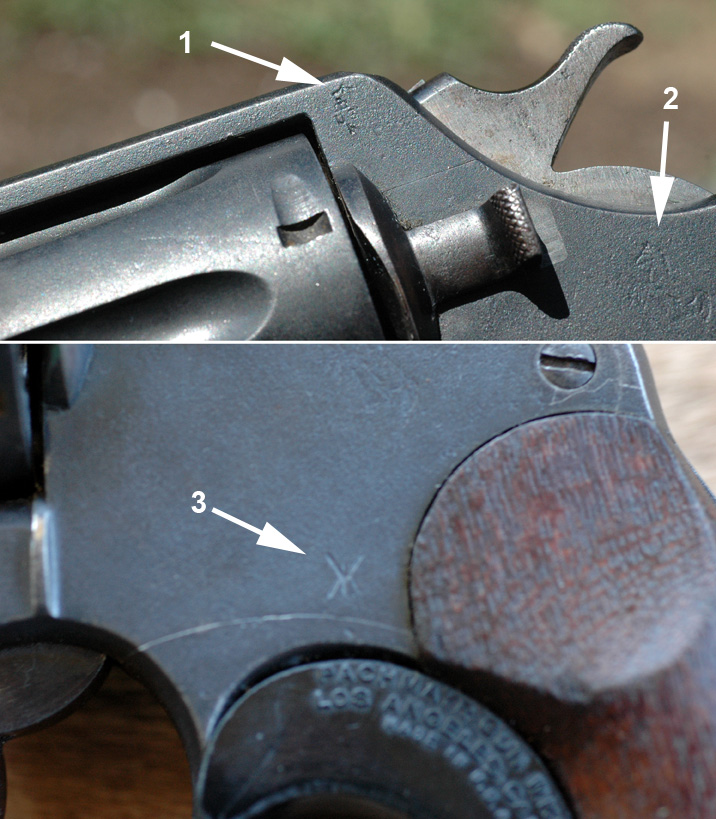 AT TOP, 1 IS A BRITISH MILTARY INSPECTION MARK,
2 IS THE MANUFACTURER'S "RAMPANT COLT" LOGO,
AND 3 IS THE SOLD-OUT-OF-SERVICE MARK. NOT
SHOWN HERE IS ANOTHER SOLD-OUT-OF-SERVICE MARK
ON THE REAR OF THE CYLINDER.
There are one or two other oddities. Most intriguing is a number stamped on the right side of the frame: "C 1008." For many years I assumed this was a serial number, and when I bought the gun that was the number recorded in the seller's book. But it isn't. Colt stamped serial numbers on the inside of the frame under the yoke, and my gun has a regular serial number there, in the range of 1916 production. Underneath the true serial number is a stylized letter "S," but I have no clue what its meaning may be.

THE MEANING OF "C 1008" IS UNCLEAR. IT'S NOT A SERIAL NUMBER. IT APPEARS ON THE FRAME
FLAT AND ON THE CYLINDER, BUT COLT STAMPED SERIAL NUMBERS ON THE FRAME UNDER
THE CRANE. THE SIGNIFICANCE OF THE "S" UNDER THE SERIAL NUMBER IS COMPLETELY UNKNOWN.
I've come to wonder what the "C 1008" number could mean. The mystery is compounded by the fact that "1008" (without the "C") is also stamped on the rear face of the cylinder. I believe this might be some sort of rack or issuance number put there by whatever entity owned it originally; or perhaps an assembly number, but assembly numbers aren't usually so prominently displayed. In years of looking at images on Internet sites I've encountered only one other New Service with a similar "C" marking, and that one had a number very close to that on mine. If it's a rack number or a unit possession mark they may well have been owned by the same military entity, perhaps a regiment that marked its guns in this manner.
I once thought the "C" might have indicated issuance to a Canadian unit, but the Broad Arrow it bears isn't the one used by that country's Army. The RCMP issued New Service revolvers in .45 Long Colt, but this gun was originally chambered in .455 Eley. Nor is it marked "RCMP" so it certainly isn't a "Mounties" gun. Nor is it ex-New York State Police; those guns are marked "NYSP." In any case at 104 years old it predates by a year the founding of the New York State Police in 1917.
This is one of those "I wish it could talk" guns with what must be a vastly interesting history, but there's no way to know for sure where it has been, who used it, nor how it came to America to be sold. The 1916 production date and a serial number in the proper range for the British contract implies that it almost certainly saw service in World War One. Who knows whether it was used in trench raiding or simply sat on the hip of some staff officer? Was it ever fired in anger? Did it go "over the top" in some major battle? Was it ever used to kill one of the Kaiser's troops? These are certainly things I will never know. While its history is a very minor gun collecting mystery to be sure, I've owned it for 53 years and have wondered about it for all that time.
---
ADDENDUM, JUNE 12, 2023
I was contacted by Mr George F— of Cripple Creek, Virginia, who had read this article and who has a similar revolver. Here's what he had to say:
I read your article about your British contract 1916 New Service Colt revolver and would like your thoughts concerning my Colt New Service .455 Eley (Webley) revolver serial number 126149 which was 1 of 500 shipped to the London Armoury Company on December 26, 1916. It had an interesting service life with British Army markings, C154 marking (maybe rack number) and AEF marking on butt plate. The close-up photos show AEF (American Expeditionary Forces) and faint US flag cartouches on grip and British military crossed pennants and broad arrow markings.
His revolver is 6407 numbers apart from mine. George contacted an authority on this subject and received this reply:
You have a wonderful example of the Colt .455 model. The markings leave no doubt it was issued to members of the AEF. Do you have any specific questions for us to research? Jerry Schmidt, National World War I Museum
I naturally inspected mine for any indication it was an AEF-issued gun, but mine lacks the stamps on the grip and the butt. Nevertheless, the presence of a "C-" number is perhaps indicative that it was in fact an AEF revolver. George's gun is in the original .455 Eley caliber, with the barrel marking intact: mine has been rechambered for .45 Long Colt and the original caliber mark is overstamped but still decipherable. The similarities are strong enough that at some point I'll contact Colt for a factory letter, to see if it went to the same London agency. My gun's serial number indicates 1916 production, but if George's was shipped in late 1916, mine may not have been sent until a few months later.
The "AEF" was the "American Expeditionary Force," American soldiers sent to fight in Europe after we officially entered the war in 1917. It would have made a great deal of sense to have issued them Colts chambered for the British service round: Colt was already producing the guns in .455 in large numbers plus the ammunition would have been readily available from British stockpiles. Later in the war, New Service "Model 1917" revolvers were issued in the US caliber of .45 ACP.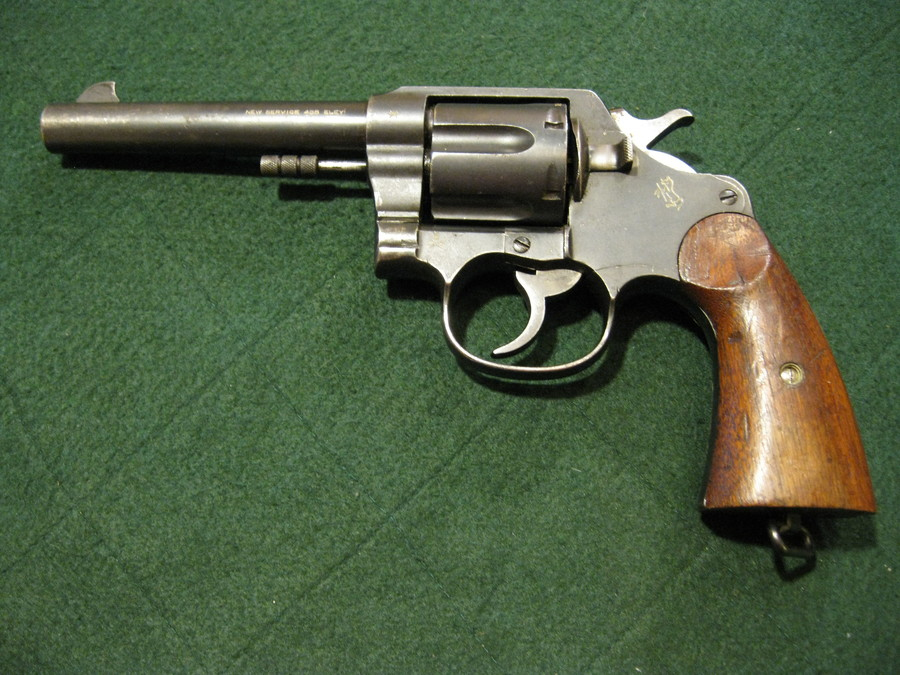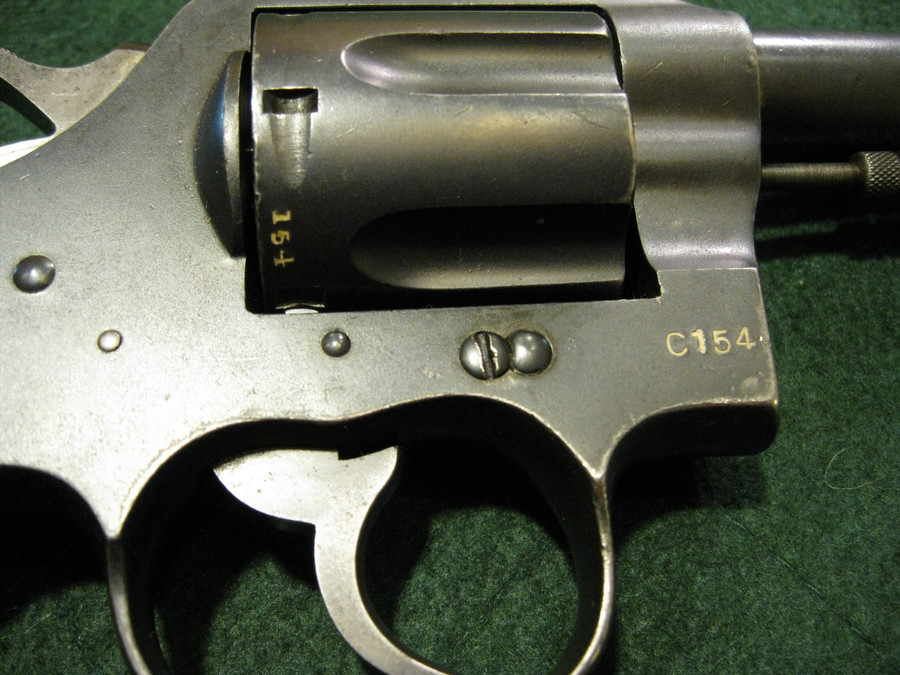 ---
|OPENING PAGE|
|SEASON LOGS |
| HUNTING | GUNS | DOGS |
| FISHING & BOATING | TRIP REPORTS | MISCELLANEOUS ESSAYS |
| CONTRIBUTIONS FROM OTHER WRITERS|
| RECIPES |POLITICS |