HUNTING'S DEFINING MOMENTS
©

by
Henry McBurney
Mr McBurney is a Master Hunter Education Instructor from
Smithfield, VA
---
It seems that each of my hunting and/or fishing adventures has had one defining moment that cements itself into my memory store and is cataloged as the defining memory of that particular adventure. About eight years ago I gave in to the ravages of age and determined I could no longer hunt from horseback, or hunt high altitudes and rough terrain on extended trips. Being a rifle hunter and loving the western experience, I settled on combining car camping with an annual hunt for antelope and mule deer on the Thunder Basin National Grasslands and other public access areas of eastern Wyoming as a way to fill this inner need. During this time I have introduced numerous people to the wonders of the Wyoming eastern slope, including hunting companions and friends from Virginia, Louisiana, Indiana, Idaho and Washington State.
Being in the December of my hunting life gives me a long and varied perspective on many past hunts and wilderness trips. As an avid lifelong advocate of utilizing public lands to pursue this passion, I've witnessed many of Nature's spectacles and thus have accumulated many wonderful memories.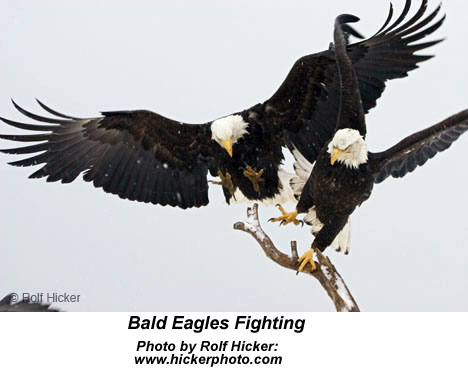 Hunting's defining moments can occur for me during any point in a trip from the planning stage (which is usually many months long) to something that occurred afterward but is usually some natural event which I witnessed during the trip. One of the defining moments from a previous trip was watching two bald eagles climb to spectacular heights over Jimmy Creek in the Entiat Ridge of Washington State, repeatedly locking talons and free falling in pinwheel fashion, until they were almost out of sight below me. They would pull out just in the nick of time and climb again to vast heights all the while screeching and celebrating being alive in this winter wonderland. The snow cover, absence of people, brilliantly clear blue sky and 10°F temperature all added to this sensual feast which filled me with wonder.
Another visually overwhelming defining moment was crawling out of the tent at the confluence of the Kelly and Noatak Rivers on my last morning in the Arctic; and under a crystal clear sky seeing that all land surfaces had turned entirely white from about the 250' elevation line upward. The skyline to the south had the entire Baird Range painted white against an incredibly clear pale sky, while to the northwest the DeLong Mountains and to the east the majestic Brooks Range were brilliant white against a sky that seemed endlessly clear pale blue. No camera or canvas on earth could have captured that majestic sight, so I hurriedly roused my camp mates to share a spectacle only Nature could have produced before the light changed and the glorious sight was lost forever. It was as if the Arctic was giving me a special farewell present, a sensual feast. I wish I had words to adequately describe that moment, but it is embedded in my mind's eye forever.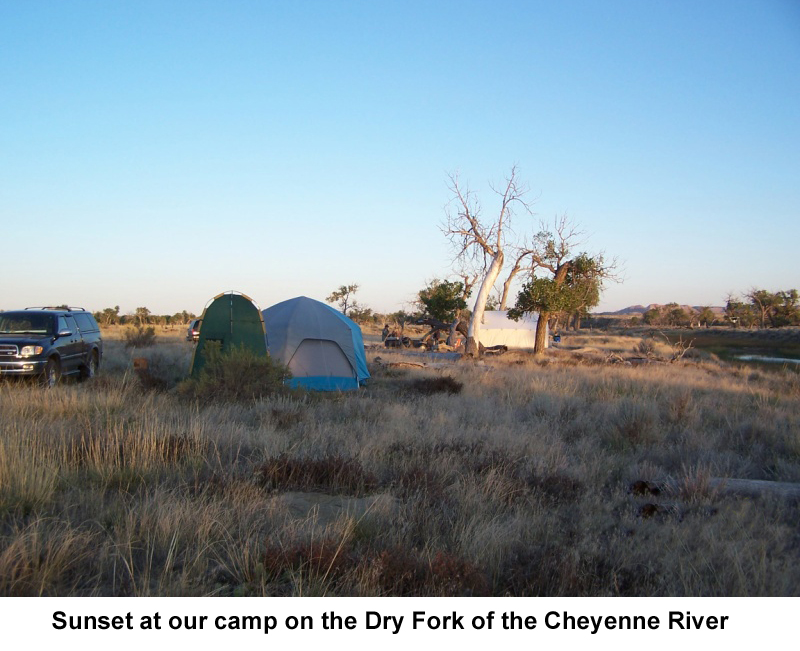 The defining moment of my 2009 hunt occurred in a wall tent set on the banks of the Dry Fork of The Cheyenne River, 22 miles from the nearest paved road, in The Thunder Basin National Grassland. It was unique in its own way, as it was the first time a person provided that defining memory and that's what this story is about.
---
Planning for Wyoming 2009 began while having breakfast last January with special friends, Dr. Daune Angell and her husband George at my house in Smithfield, VA. During this breakfast we were discussing antelope hunting; I was lamenting the fact that I had passed on the 2008 WY season in lieu of doing more local fishing and had regretted that decision. I told them both that if they would agree to go with me to Wyoming this year I would put at least one more antelope hunting trip together.
Both Daune and George are accomplished hunters but had never hunted our western lands except for pheasants. Both quickly said yes and that set the wheels in motion for setting up our Wyoming 2009 hunt and their first Western rifle hunt.
---
This year's antelope/mule deer hunt camp comprised ten hunters in sleeping tents, with a 14' x 16' wall tent I had made in Billings, MT some years ago providing the hub of the camp, a place for meals and camaraderie. Five members of the party were from various parts of Virginia; four from Federal Way, Washington; and one from Boise, Idaho.
Prior to departure we'd decided to have one central camp, located conveniently to enjoy the fellowship and warmth that's shared by the wonderful fraternity of hunters to which we all belonged. Although we were not all hunting antelope in the same area I had pre-selected a tentative camp location by studying available maps and utilizing the resources of the internet.
Daune and George, being first timers (and the only couple on the hunt) set up their sleeping tent about 50 yards to the west of the wall tent; the rest of the group arranged their tents to the east side. This separation gave them some measure of privacy and set the stage for a particularly hilarious event which occurred on our second night.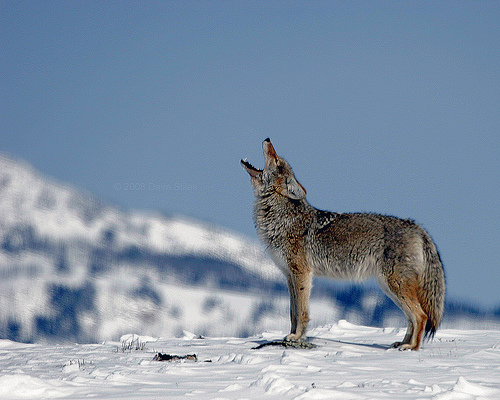 About an hour after Daune and George retired for the night and we could hear George lightly snoring, we set off an electronic game call. We'd placed it to the west of their tent with the volume very high, a recording of fighting coyotes! Being abruptly roused from a sound sleep we could hear George exclaim very loudly, "What the heck is that?" and Daune answering "I don't know! I have never heard that sound before!" At that point we stopped the call for about twenty seconds.
When we restarted the loud coyote screeching George sprang into action and immediately was outside of their tent beating his plastic pee bottle on the tent and hollering something unintelligible in an effort to frighten away whatever was making that dreadful noise. By that point we couldn't contain ourselves any longer and erupted into fits of laughter which will continue for many years.
George, being the gentleman he is, was incredulous that grown men would stoop to such childish pranks and, after calling us all Jackasses in his finest North Carolina drawl, re-retired for the night with his dignity intact—although still the target of occasional fits of spontaneous laughter erupting from the other tents throughout the night and various parts of the prairie for the rest of the trip.
---
We'd had several days to scout prior to Opening Day, which gave the three first-timers to antelope hunting ample time to understand the lay of the land and the boundaries of the public lands available to them; as well as to develop an Opening Day strategy. This year Opening Day was on a Thursday. By late Saturday afternoon our group of ten hunters had filled twelve of the fourteen antelope tags we had, in spite of some rather extreme weather even for eastern Wyoming. The west coast crew, having tagged out, pulled out leaving only the five Virginia hunters in camp. John Bruce from Boise had harvested a noteworthy antelope buck that I think will score very well.
---
Sunday morning dawned mostly clear with the upslope wind diminishing and overcast building as low pressure approached from the west. The forecast was for light rain and snow showers beginning Sunday evening. I had filled my antelope tag and stayed in camp while Daune and George went out early to try and find a nice buck for Daune. The other two Virginia hunters went south to scout out some walk-in mule deer hunt areas, and when they returned to camp mid morning announced they'd decided to pass on mule deer hunting this year and left to attempt to harvest an antelope.
Daune and George returned at noon to a lunch of hot soup and peanut butter sandwiches that were barely tasted, as they were both so excited talking about the morning's spot and stalk hunts. Daune had set her effective shooting range at 200 yards; try as she and George might, the closest they could get to several mountable antelope bucks that morning was 260 yards and she was not going to compromise. Although they both had sore bruised knees and prickly pear thorns embedded in various body parts, they both stated emphatically that the morning's stalks was their best day of the hunt so far.
While we lingered over discussing that morning's hunt in the warmth of the tent, the temperature had dropped appreciably. I let them know that the other two hunters had advised me that they were ready to head out and forego mule deer hunting; I suggested that we consider packing up and heading out the next morning in lieu of later in the week.
About that time our other two hunters returned with their last antelope tag filled and we counseled and determined that we would break camp and head to Douglas the next morning, pick up our processed meat Tuesday, and head east; a pretty severe eastern slope winter storm was forecasted to arrive Thursday. This was in spite of us only actually hunting a little more than three and one half days.
---
We all had several hours to pack our personal gear and to tidy up our camp and gear in anticipation of heading out the next morning. By dusk we were experiencing light intermittent rain showers and building northeast winds. We reassembled in the wall tent for our final evening meal on the high prairie. I poached a large salmon fillet on the wood stove, cooked two large center cut ham steaks in red eye gravy, a big pot of succotash (corn, butterbeans & tomatoes) and—for we Southerners—a pot of grits! What a wonderful dining experience, sitting in a cozy wall tent warmed by crackling cottonwood branches augmenting our Blue Ridge Mountain red oak in the woodstove; and lit by my reliable old 1960's single mantle Coleman lantern, whose hiss almost drowned out the noise of the building Northeast wind and driving rain. It didn't take the five of us long to devour practically everything in sight. While the others lingered around the table over conversation related to the hunt I quickly pre-washed the cook pots, filled the coffee pot for the next morning's coffee and re-joined my companions around the table.
After I re-joined my four hunting companions for discussion around the dinner table I picked up a partial bottle of peach brandy as I was going to have a brandy prior to turning in. I was introduced to the wonders of peach brandy in a hunting camp high on the western slope of the Rockies north of Steamboat Springs, Colorado in 1967 by a generous group of elk hunters from Greely, Colorado. That's a story unto itself; but ever since then I have included a bottle of this elixir for my hunts if space and weight permitted. For me it is a delightful nightcap.
Now, you can imagine how anemic a bottle of brandy can look after being in a camp of ten people for five days. I removed the cap from the bottle and hesitated before pouring the remaining brandy into my tin cup for me to enjoy. On an impulse I threw the brandy cap in the corner of the tent and gave a toast to a successful hunt, took a small sip of the brandy and passed the bottle to my companion on the right. Instantly each of us knew that this was everyone's nightcap; then it would be off to bed, as effectively our hunt was over.
This sip of brandy had thus become our final symbolic act for our 2009 Wyoming hunt. The first four of us quickly took small sips lest the last one was left without: that left Daune as last in line having enough color in the bottle to measure, maybe an ounce. She took the bottle and held it up to the glow of the gas lantern, slowly examining it. She seemed reluctant to hurry her sip as we all had done. She realized that taking that symbolic sip of brandy was really going to end her and George's 2009 Wyoming hunt and she was not quite ready for the weight of that action. Doing so would mean that all her anticipation, the month's of planning, preparation and the actual hunt itself would be over forever. It would effectively end a wonderfully positive experience, one that she and George had met head on and relished every minute of.
George and the other two hunters returned to continuing dialogue as Daune lingered deep in reflective thought as I waited for her to finish off the brandy and we could head off to bed. After some few minutes, Daune—in the comfort of a snug warm wall tent surrounded by family and friends—closed her eyes and slowly raised the brandy bottle to her lips, tilted her head way back and held the brandy bottle vertical while the meager contents disappeared.
Long after the contents had disappeared Daune still held the empty bottle vertical as if she were saying I don't want this hunting trip to be over and as if by her actions she could somehow delay the inevitable. She didn't hand me the empty bottle right away, as she was still looking at it lost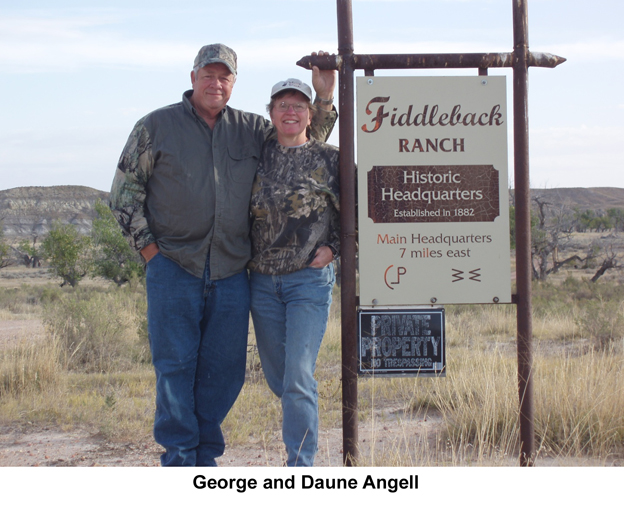 in thought with a sad expression on her face. As I waited, her expression gradually changed from sad, to pensive, and then to resolute as she handed me the empty brandy bottle.
That was the defining moment of my 2009 Wyoming hunt: that moment when kindred sprits connected. Not a word had been spoken between Daune and me and yet I knew exactly what she had been thinking. She was very sad that her and George's Wyoming 2009 hunt was over; she felt privileged to have vast public lands to utilize; she and George had a great rewarding first western hunt on their terms, they had made new friends, seen wondrous new places and Yes, Yes, Yes, she and George were coming back to Wyoming in 2010!
What a great defining moment. To me the essence of our hunting heritage is those thoughtful times spent in reflection, appreciation and the determination to continue this wonderful and great tradition.
Being considered friends with Dr. Daune and George Angell has been a privilege for me as they both are great stewards of the American hunting tradition and give tirelessly and frequently of their time in support of educational programs which support and foster this tradition in the Commonwealth of Virginia.