AN ANTELOPE HUNT IN WYOMING
by
LCDR Jim Dodd, USN (Ret.)
---

One of the really great ways to be introduced to hunting the West is to go on a pronghorn antelope hunt in Wyoming. Wyoming is The West, and the state has more antelope than people.
While you do have to draw a license, this isn't hard to do. Wyoming Game and Fish has a website with plenty of helpful information—you can download everything you need—and you can apply for licenses on line, too.
I also visit some online hunting sites, and the 24 Hour Campfire is a good site with plenty of helpful folks. I used the Big Game Forum to seek help in putting together my first antelope hunt. Although I've lived in and hunted the West since I was 14, (in 19mumble), for one reason and another I never went hunting for "speed goats."
I call this hunt my "Campfire Cooperative Wyoming Antelope Hunt" because several folks on the forum helped me to draw licenses, find a landowner to hunt with, and helped with planning hunt details. The hunt took place in October of 2006, and it was an all-around fun trip.
Originally three of us intended to go: me, my wife Renae and my hunting buddy Cal. We applied as a party in the Wyoming drawing, which had to be submitted by March 15th. The state doesn't post results of the draw on their website until July, so it took a while and much suspense to find out if we were drawn. We had applied for buck tags, which were less than $250 with the license and fees. You can also buy doe tags for much less (about $50). I had followed the area recommendations of Wyoming hunter "WyoJoe" on the 24 Hour Campfire (thank you again Joe!). He gave me three areas—62, 61 and 45 (in that order). We drew our tags in 45, which turns out to be almost all private land: probably why we were able to draw!
Once we had the tags I went to the Campfire again, looking for access. I also checked the access section of the Wyoming Game & Fish site. I got a reply from a Campfire member who lives in Tennessee whose brother manages a ranch in Wyoming in our area. This ranch is used to entertain clients, so we could not hunt it, but when I called I was given names and numbers of two ranchers in the area who do allow hunting. "WyoJoe" also came up with the name of a third rancher. We were given a choice of fees of $50, $100 and $150, and ended up choosing the rancher who charged us $100 each.
I had scheduled a muzzle-loading deer hunt in Colorado between September 9-16; the Wyoming antelope season opened on September 16th and ran though October 14th in our draw area. We decided to go later, leaving San Diego on September 30th. To my wife's great disappointment, she had a surprise project dumped on her at school (she teaches elementary school special education) so she had to cancel. She says next year she will retire on the spot if it happens again!
Driving up from San Diego was boring. It was the third time that summer I'd launched on I-15 headed north through Las Vegas. At least this time we got to pick up a new route at Salt Lake City, that being I-80. We motored along the ugly part of Wyoming (according to one local we met in Laramie), then got off on Wyoming Route 130 to head for the town of Centennial.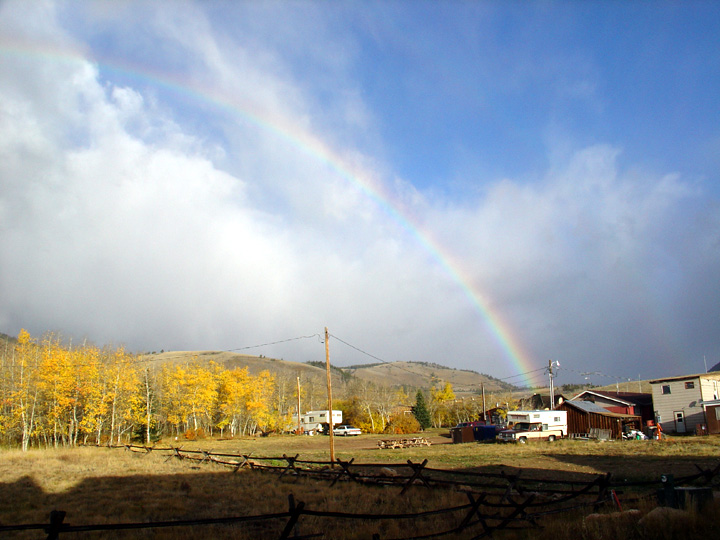 That route took us over the Snowy Range, a very pretty view route through some high mountains. The pass is 10,800' and the road is closed in the winter.
Centennial is a small town of about 100 just outside the Medicine Bow National Forest on the eastern side of the Snowies at 8,400'. We stayed in the Old Corral Hotel. If you stay there, try the restaurant just up the street, The Bear Tree. The spectacular scenery above was the view from our room at the Old Corral!
I called Mike the rancher from our room (my Sprint cell phone was on "analog roam" much of the time in this area) and made a date for the next morning. Of course, we had to follow his directions immediately to see if we could get there OK, so off we went. The directions were excellent, and we were soon returning to Centennial. We stopped at a Wyoming F&G check station on Route 130, just to chat, where we found out that we needed a $10.50 Conservation Stamp for our licenses. Luckily the small store in Centennial sold licenses and had the magic stamps too, so we didn't have to go into Laramie.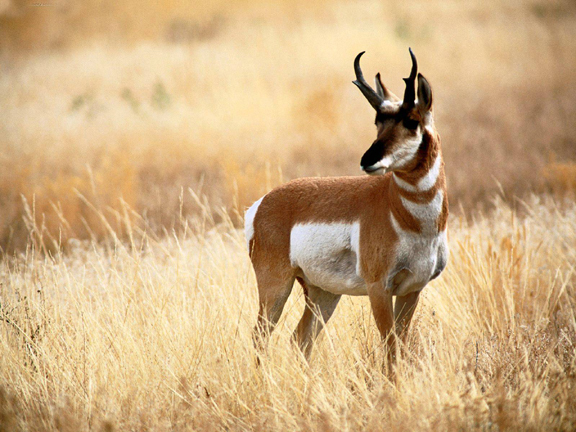 Monday morning we were at the ranch house at 8:00 am, after 13 miles of local driving to get there, looking at antelope all the way. We met Mike, the rancher, and Mark, his foreman, as arranged. Mike tasked Mark first to take us to an area local to the ranch house where a bunch of antelope were hanging out, then second to take us on a tour of the ranch.
We jumped in the ranch truck, and off we went back toward a stretch of the road we came in on, which pretty much circled the ranch. We left the truck, and used a stretch of willows along a creek to screen us as we made our approach to the antelope. Cal was looking at the herd buck and thought he was OK. I ranged him at 232 yards. Cal's rifle went BANG, and we had our first buck at 9:05 am!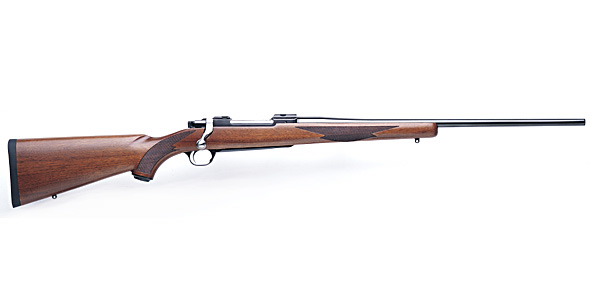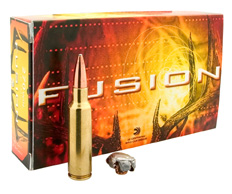 Cal was using his Ruger M77 in 7mm Magnum, with Federal Fusion ammo. It was loaded with 175-grain bullets (his shoot-everything load in that rifle). We cleaned the antelope, then dragged the critter back to the truck, and motored back to the ranch house area. We then went off to tour the ranch and look for more bucks for me.
The north section was two miles east and west, and three miles north to south, and damned near as flat as a billiard table. There were several bands of antelope that I succeeded in moving out for lack of cover. At noon I suggested to Cal that we take his antelope to town to be processed, and so we did that. The Sunshine Game Processor in Laramie (about 30 miles from the ranch) is just across the street from the University of Wyoming, something I found very amusing: thousands of college people on one side of the road and dead animals on the other. There was something about blood in the gutter I guess. We dropped off Cal's antelope, and had lunch at the brew pub next to Sunshine, then back to hunt. The afternoon hunt was with rancher Mike, he wanted to take us to a west section of the ranch that held both antelope and cattle—and he didn't want us shooting any of his cows by error!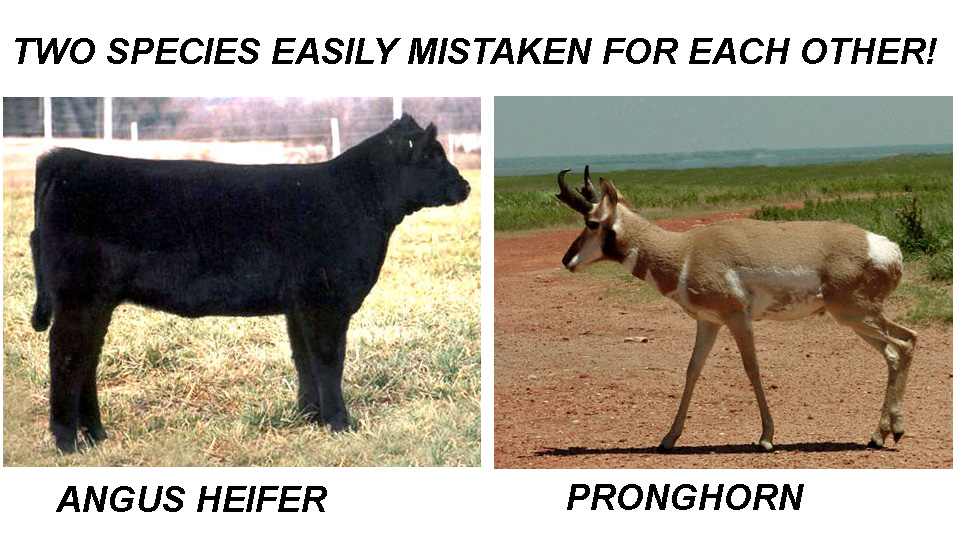 We found a band about where he expected, and got pretty close to them. Mike used to be an outfitter, and said this buck was more interested in rounding up does than in anything else. I had my Leupold 12-40X60 HD spotting scope in the pack, and I liked the mass in his horns: so without further ado I shot him in the chest from about 90 yards, taking a kneeling position to deliver the

shot. I was using a Savage M114 Classic in .30-'06, with a Federal 165 grain load with the Nosler Ballistic Tip bullet. I wanted to go hunting with a .30-'06 in 2006: the 100th anniversary for the cartridge born as the .30 Government cartridge of 1906, and my other two hunts were muzzleloader hunts. So the venerable '06 came along on this hunt even if the '06 is more gun than you need for an antelope.

The bullet took out the heart, and exited through the ribs behind the right shoulder. This combination rifle and load shoots into under 3/4" at 100 yards, indeed this is the most accurate hunting '06 I have ever used. I had my buck at 3:30 pm, and cleaned it with my Kellam Knives Finnish puukko, its first blooding.
Mike drove the truck right up to the antelope, and a flock of Angus heifers came ambling over to visit. I guess they were looking for a handout from the ranch truck, but they made a semi-circle around us while I gutted the buck. That was really weird, and you can see one of these curious onlookers to the right in this picture. I'm at left, Cal to the right.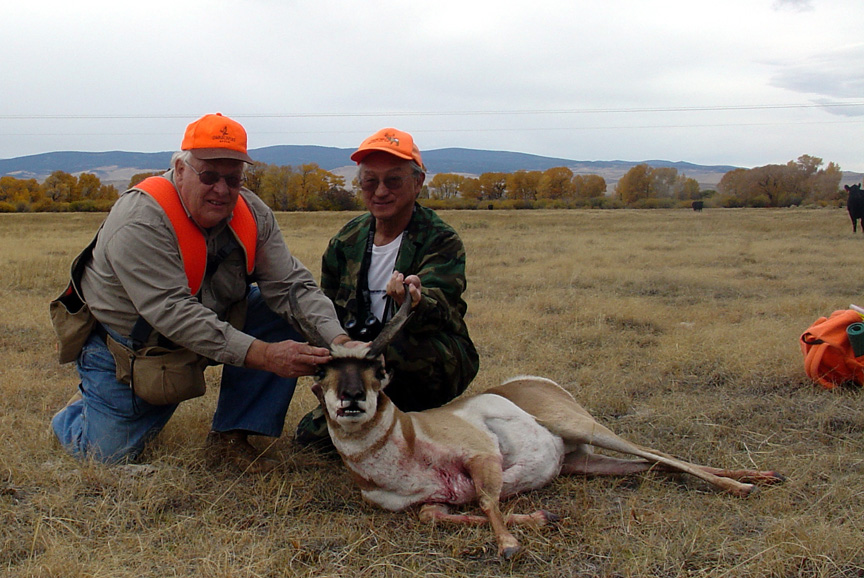 Both bucks had horns in the 13" to 14" range common for this ranch, although mine had heavy bases at 6.5". It was a very gratifying and rewarding hunt, and we spent the next two days "touristing" in Laramie and Cheyenne while the butchers did their work. We made a side trip to just east of Boulder, Colorado to have lunch with a friend and visited pretty much all the outdoor stores, book stores and gun stores we could find. if you prefer not to drive, you can fly into Laramie or Cheyenne and rent a vehicle.
Antelope hunting is my new favorite, and I am looking at applying for public draws in California, Nevada, Wyoming and New Mexico in future years. I will be taking Renae to Wyoming in 2007 if we draw tags.
Many thanks to my friend "Wild Bill" from Montana for his tips on finding and filtering antelope: it really helped!
---
| HUNTING | GUNS | DOGS |
| FISHING & BOATING | TRIP REPORTS | MISCELLANEOUS ESSAYS |
| CONTRIBUTIONS FROM OTHER WRITERS|
| RECIPES |POLITICS |