A CANADIAN FISHING ADVENTURE
Photos Courtesy of Dave Bell
---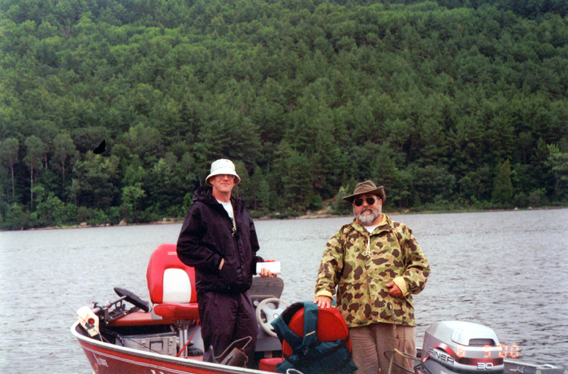 A few years ago I spent four and a half days at the K/O Lodge in Deep River, Ontario, a town of about 4200 people some 200 km west of Ottawa on Highway 17, sitting on the banks of the Ottawa River, a major tributary of the St. Lawrence. The Lodge is owned by one Terry Carlin, an ex-US Marine, who left military service 28 years ago, bought the land and built the operation. He's now semi-retired, and the place is run by his son, Terry Jr., and his daughter in law; but Senior is
in residence during the warm months. During the winter he does promotional tours to outdoor shows, leaving Junior and Mrs. Junior to contend with the bleak Ontario winterscape, as the Lodge is open year-round. I found out about K/O when my friend Dave Bell encountered the Carlins at an outdoor show in Chantilly VA the previous February. Since Dave and I had been talking about a trip like this for years we decided it was time to do it.
The slogan of the lodge is "Luxury on the Edge of the Wilderness." There is some degree of truth in it, though I think "Acceptable Comfort on the Periphery of Rural Canada," might be a little closer to the mark. It's in a beautiful setting on the shore of a small lake, which we were told held monster bass, though none of us could have testified to the truth of that assertion. As you might expect of the locale and type of place, it's a log-construction building, one story with the central area occupied by the restaurant, and rooms attached. The interior walls of the lodge and the guest rooms are (of course) knotty pine. There's a large and comfortable dining room, a completely stocked and licensed bar,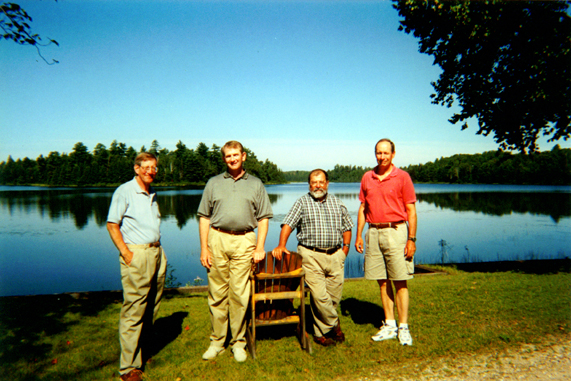 and a sitting lounge with a pay-as-you-go pool table. The decorations in the public areas are miscellaneous dead animals and animal parts. The grounds are well kept, there's a permanent barbeque pit and a couple of docks on the lake, a volleyball court, and a fish-cleaning station for guests to use. On the grounds and also down at the river there are some free-standing guest cabins, but we stayed in the main lodge. The food in the Lodge is good, and there's plenty of local brew available. We mainly drank Sleeman's and Upper Canada, with the latter universally being considered the better brand. Their taxidermy bill must be staggering. Terry Jr.'s most recent moose is over the fireplace; there are three, count 'em, three, bear whole-body mounts, two black bears and a grizzly. (The last was taken on the Kenai Peninsula but the blacks are home-grown.)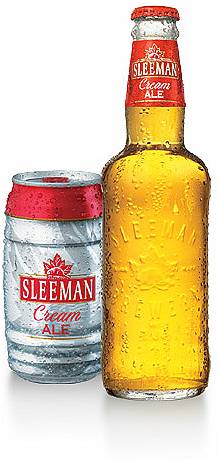 In addition there were many mounts of fish of amazing sizes, an assortment of birds, a jackalope (next to the bar, where it can be admired under the best conditions), and a really spectacular diorama of a cougar killing a mule deer. This latter must have cost them ten grand, at least: it's a museum-quality display, with the cougar biting the mulie behind the neck, and the deer—a big buck sporting a trophy rack—poised with his head upraised in its death throes. We were four in the party, so we had a two-bedroom suite, with one full bath and one three-quarter bath. Very comfy beds, a TV that received two channels (barely) and no telephones. No A/C, but at night you don't need it up there. It's not total isolation from The World, but it's enough so that daily routines sort of fade into the background. We never turned the tube on, anyway. We were too busy. Between fishing, eating, and recovering from the fishing and eating (and from a few Upper Canadas) we slept like logs, all of us.
We arrived on Monday afternoon after an easy drive through the hills leading up to the portion of the Laurentian Shield where the Lodge is located. Dave is a fanatic when it comes to fishing, so within 5 minutes of arrival he'd changed and was chivvying me to get out on the lake. The other two in our party, Mark and John, also were ready to go ASAP, so we all trooped down to the docks and boarded the johnboats provided. These boats had anemic trolling motors as their only propulsion. If I have learned nothing else on this trip, it's that I don't want a bow-mounted, foot-controlled trolling motor on any boat I ever own; and that a 17-pound-thrust motor isn't adequate to propel a 16-foot johnboat carrying two adults and fishing gear against any sort of wind. However, we tried.In the course of the next two hours John caught a decent sized smallmouth bass, but all the rest of us got were serious mosquito bites from some of the nastiest and most persistent skeeters I have ever encountered. One of the place's few drawbacks, in fact, was the mosquitoes. Judging by the size I think they must have imported them from Texas. That's the only other place I've seen bugs to match these. Mosquitoes nearly as big as mallards can give you a hell of a bite, especially if you have been foolish enough to leave the DEET in your luggage and are out on the lake with a man who'd rather fish than eat and who regards mosquitoes as a minor nuisance, a trial to be endured stoically in the Holy Pursuit of Fish.
By dark we had to be off the lake anyway, so after figuring out how to work that incredibly cantankerous motor, I managed to get Dave to the dock by assuring him he'd have all the fishing he wanted the next day, out on the river. We came in, scraped off the blood, bandaged the worst wounds, and went in to dinner. After half a duck and a couple of Upper Canadas I was ready to collapse (partly from loss of blood). We retired to our suite, and I promptly went lights-out.
Thirty seconds later it was Tuesday, 6:00 AM, and Mark was rousting us from slumber, get-up-get-up-get-up, let's get to the Lodge for breakfast, come on, the fish are waiting. Mark and John are both ex-USAF bomber pilots. (I don't know why, but every pilot I have ever known is a Morning Person. When I was an enlisted aircrewman, at least I got to sleep on the cargo in the bay of the C-130.) I dragged myself out of bed (Dave had sat bolt upright and was halfway out the door within 30 seconds; he's not a Morning Person but there were fish waiting). We had a good breakfast, and ho! for the river.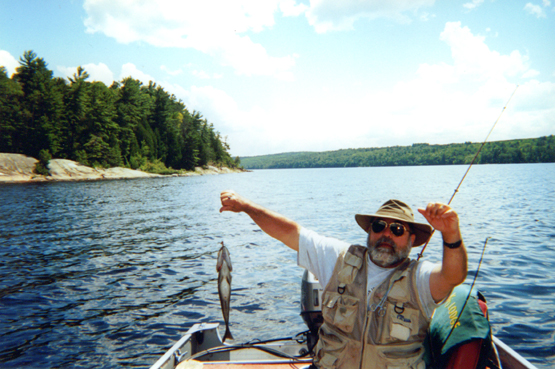 The Lodge has a very nice fleet of fishing boats, aluminum Lund deep-V sixteen-footers, each sparkling clean and fitted with a new Johnson 30-hp outboard controlled from a console on the starboard side. It was a very nice rig: electric start and tilt, enough power to get you where you wanted to go but not enough to get you into too much trouble (we did manage, see below), a live well with recirculating aerator, a power bilge pump, gear stowage lockers, comfortable seats, and all the requisite safety gear. Each had a trolling motor, again a bow mount foot-steered job. They were 36-pound-thrust Minn-Kotas, better than the clunkers on the lake boats, but not nearly big enough for a boat like the good ship Lund 9. In sheltered water the trolling motors worked fine but a stiff wind gave problems with control. I found it takes a while to get the hang of steering with your feet. We paired off as we had roomed, me with Dave, and John and Mark together in a second boat. The boats were included in the package we'd bought, but we had to pay for gasoline, at prices that were comparable to the US , if you converted currencies.
(The exchange rate provided a discount of about 40% on everything we bought, including beer. According to K/O's web site, gasoline for the boats is now included in the fishing package.)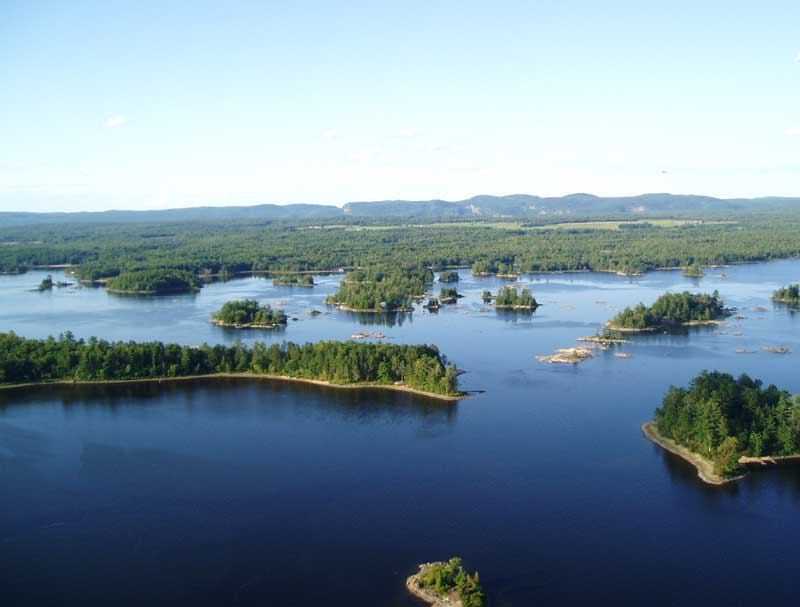 The Ottawa River is big water. In places it's at least a mile wide, perhaps more; and most of it is well over 50-60 feet deep, reaching 275 in some spots on the chart we had. We'd been advised to head upriver to an area called "The Flats" to try for walleye. The Flats had gravelly bottom with a consistent depth of 30-40 feet. We stocked up on minnows and night crawlers and headed out about 8:00 AM. That first day we caught plenty of fish, mostly smallish walleyes. We'd drop a minnow on a weighted line, let it lie for a while, and sooner or latter nibble-nibble-nibble, there'd be a walleye on it.
I had never caught these guys before, and they took some adjustment in my tactics. Smallmouth bass, which are what I usually catch in the New, hit a bait hard and run with it. Walleye are very soft biters. Their taps are almost imperceptible, easily mistaken for current slosh or the jerking of the minnow. Eventually they make up their mind and swallow the bait, and when the rod tip begins to bend, that's when you set the hook. If you try too soon you miss them. I was using my standard slip-sinker rig, where the line runs through a bullet shaped weight so that a fish
tugging on it doesn't feel any weight and the minnow is able to swim around a bit. Night crawlers didn't work nearly as well as minnows: we caught a few walleyes on them but minnows were the clear preference. Walleye also don't fight much: once they're hooked they seem to go limp, resigned to their fate. I'd been told that big ones will fight hard, but the ones we caught didn't.
We spent the morning hauling in 14" walleyes, until we got bored and decided to try another area, a sheltered bay on the Quebec side where we'd been told there were lots of bass. Bass there may have been but we didn't get any, despite an entire afternoon waving everything we could think of in their faces: worms, minnows, spinners, plugs, jigs, mock crayfish, you name it, we tried it. No joy. Mark caught a biggish pike on an artificial of some kind, while drifting along the shore. Dave picked up a nice channel catfish, about 6 pounds' worth, on a minnow. John and I got nuttin' for our efforts that afternoon. However, it had been a good start to the trip, so we retired to the Lodge for dinner and a few brews, then collapsed into bed again.
Mark had found out that breakfast began at 6:00 AM, so he was doing his rooster act at 5:00 on Wednesday. Dave bolted from bed, and even I had had enough sleep to make it up to consciousness fairly easily. Trooped off to the lodge, stuffed ourselves, and headed to the river again. We were on the water by 7:30 this time.
That day was more or less a bust. No walleyes: we'd decided bass was the quarry so we went to several other places we'd been told about. I didn't catch much of anything, a few 3" perch was about it.
The highlight of the day was when we worked our way up into a backwater we'd been advised to go to, and ran the boat full tilt into a rocky shallow area, turning the prop into a piece of high-priced aluminum scrap. We'd been told to keep to the left, so naturally we kept to the right, and bingo, ninety-five dollars Canadian went down the tubes. We didn't actually break off a blade (we should have) but the ends were curled over like dog-eared book pages. It worked well enough that we could move the boat, so naturally we didn't go in. We eventually limped back to the landing, making a tremendous wake but not much speed, and 'fessed up. No problem, they put it on our tab!
Dinner that night was a barbeque in front of the Lodge. Very nice stuff, with most of the food being wild game, actually. Terry Jr.'s moose (the one whose head was on the wall) supplied most of it, in the form of moose sausage and moose burgers, plus some chunks of moose meat. There was also fried walleye, French fries, and assorted beans and such. Excellent fare.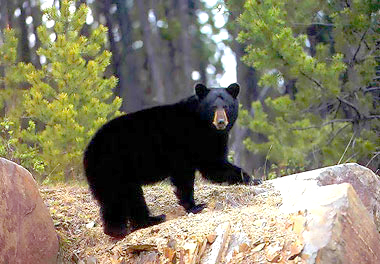 And there was the bear. While we were all standing around making merry and swigging the Molson's, a black bear, perhaps 150 pounds of him, came wandering onto the Lodge grounds, sniffing the barbeque and hoping to crash the party. One of the locals (of whom more will be said later) looked at the bear in disgust and remarked, "Ah, we been over-run with them things since they closed the Spring bear season! They're all over the damned place!" This bear got the message that he was an object of curiosity but not welcome at the party, and wandered back into the woods, pursued by a few extremely stupid guests who decided they wanted close-ups of Mr. Bear to take home. After the excitement and the food, bed was welcome again. That night I was awaked by the sound of Terry Sr. clanging trash can lids to scare some more bears off the back porch of his house, and it was cock-a-doodle-doo from Mark at 5:00 on Thursday.
That day we went down river to a couple of coves where, we'd been assured, there were pike and bass in plentitude. As we sat off a little point waving minnows, Dave hooked into something that nearly broke his pole. He fought with it for a while as I stood by with the landing net. Good thing we had that, actually; when we got the thing into the boat it turned out to be a three-foot sturgeon! Dave had caught him on a minnow, of all things. Sturgeons are bottom feeders and they don't have teeth. They look for all the world like a big sucker, and you wouldn't suppose a minnow would attract them, but I guess this guy was hoovering along and just sucked it in. As sturgeons go it wasn't much of a fish: they can reach 14 feet in length. But perhaps considering the strength a "little" three footer has it's just as well Dave didn't get a really good one! I didn't catch much, a few more perch and a fair number of 4" to 6" smallmouth, plus a few rock bass (red-eye). That night we made a run to the beer store for more Sleeman's as our supply was getting dangerously low. A few brewskis aided sleep, and Mark displayed the pilot's remarkable ability to ignore the fact that he has a hangover again at 5:00.
Friday was the same as the rest, except I started catching fish, finally. And of course, we had a new prop! We had gone downriver again, but this time were over on the Quebec side, sitting on the drop-off between the shallow (4 foot) and the deep (30-odd feet) water. Shortly after we got there I picked up a channel cat that had to have been 5-6 pounds, and who was profoundly pissed off at having been suckered into eating a hook. He did NOT want to get into the boat, but in the end he had no choice, thanks to Garcia's "Ugly Stik" rod, a Johnson reel, and 12-pound test he wasn't ever going to break. Quick snaps, and back in the water he went. Mark and John hadn't been able to get anything, and took off to another area; almost as soon as they left I started reeling in 12-15" bass on worms with fair regularity. That spot served us well. We came back to it and caught some walleyes on
Saturday afternoon, after the adventure with the Buck The Fishing Guide.
Our luck had been fairly lousy, all in all. Dave was determined to get a pike, and we had conferred over the Sleeman's to decide how best to approach the situation. All agreed that a good guide was our best bet so we went to find Terry Jr. and ask for one. He assured us he'd set us up with "...my best guide," who turned out to be Buck, he who had contemptuously dismissed the wandering bear the previous night. Buck met us at the dock at 8:00 AM Saturday morning, for a six-hour stint on the river. We'd agreed to split his CDN$150 fee four ways, putting him in one boat for three hours and the other for the next three hours. Nobody had asked Buck his opinion of the arrangement, because we assumed he'd be willing to do it. However, we underestimated the fierce independence of the Ontario Fishing Guide.
Buck was a "character." He certainly looked the part of The Canadian Outdoorsman. He wore a floppy hat with a wide brim, wool trousers and a flannel shirt though it was a blazing hot day (I thought surely he'd die of heat stroke but he didn't). The trousers were held up by a 3" wide logger's belt (with a label that said "If this belt has been used in fall-arresting service it is not to be used again in such service") and a pair of suspenders, just in case. Buck's nether extremities were encased in high-top leather boots and woolen gaiters. He was perhaps 45, with hair that had turned the sort of yellow-white that blond men get when they age; it was a shade some women I know would kill to have, if they couldn't buy it from Lady Clairol. Buck's silken goatee was the same color. You expected him to have an axe on his shoulder and a blue ox at his side.
Buck's outlook on life was a peculiar mixture of rugged individualism and an abiding belief in the desirability of the welfare state. At one point he declared his contempt for all persons who took welfare payments. Shortly thereafter he started complaining about how the Ontario government was really unreasonable in making him wait 2 whole weeks before collecting his first unemployment check after he'd been laid off.
I threw out the topic of the new Canadian gun law requiring national firearms registration to see what would happen: Buck jumped on that with a tirade that would have done Neal Knox proud, except that he didn't so much disagree with the concept of registration, at least for people who "shouldn't be allowed to own a gun."
Buck was clearly not impressed with those of us who make a living with our heads instead of our hands. Early on we'd exchanged pleasantries and basic information on homes and jobs, and an hour or so later, following the anti-gun-registration rant, he glared at me and said, "D'you ever notice how when you get a repressive government, the first thing they do is kill off the intellectuals? College professors, and people like that?"
Buck had been touted to us as "knowing the river better than anyone," and perhaps he did, but you couldn't have proven it by the results he got that day. The first intimation that our guide fee wasn't all that well spent came as we pulled away from the dock and he said, "I sort of feel naked without any bait along," though there was no reason we couldn't have brought some if he thought we needed it; they sold it at the dock.
First we went upriver to "the pike hole" a location he swore held monster lunkers waiting to tear the rods from our hands. The only thing we caught there after an hour and a half of plugging the weeds and shoreline was the smallest largemouth bass in the world: Dave foul-hooked a one-incher dragging his Rapala through the lily pads. I caught zip.
Buck had looked at my 7-foot spinning rod, tried it for a couple of casts, and sniffed disdainfully. "Boy, I bet you've had this rig for a long time!" He then handed me one of his own rods which had a Shimano reel on it with a 6:1 crank ratio. When I asked what lure he recommended he said "A floating Rapala," in the same tone he'd use to tell a dog to sit. I had a floating Rebel about 6" long, which he refused to let me use, saying it would dive too deep. I borrowed a 4" Rapala from Dave and as soon as Buck saw it, he yelled, "What, are you playin' at this?" and handed me a 6-7" one painted blaze orange. I dutifully chucked this brick until my right wrist ached and I was in serious danger of a repetitive motion injury (mention of which brought forth from Buck a long disquisition on the stupidity of doctors and the incompetence of the National Health Service, who were unwilling to let a man have the time and services he needed to get well, etc., etc.). All of this was to no avail. No fish of any kind was interested in our offerings.
About 11:00 I reminded Dave of the deal to have Buck change boats, but Buck seemed to be suddenly deaf, and insisted we up-anchor and go to another spot. We did so, and after an hour of no results there, my repetition of the boat-change idea elicited no response whatever. In the end Buck never did change boats, and Dave and I agree to split the fee two ways, since Mark and John didn't have the benefit of his "expertise" at all. Of course, neither did Dave and I, really.
By 1:00 Buck was visibly nervous about what was going to happen, and what would be said by these fish-free clients when they got back to the Lodge and confronted Terry Jr. about "one of your best guides." I don't know how he managed it, but at that point, finally, Dave caught his pike. I suppose the poor fish was so bored and annoyed by the repeated splashing of the lure he simply couldn't resist having a go at it. Dave had switched to a buzz-bait that looked a like a chartreuse parakeet wearing a bottle cap. I couldn't imagine any fish would be the least bit interested in it, but I guess this pike decided he's had enough, saying to himself that he was going eat that damned bird just to teach him a lesson: he hit the lure like a train at full tilt and Dave started to fight with him.
Buck started dancing around with the net as Dave fought the fish to the boat, simultaneously yelling contradictory instructions and orders. Eventually the fish was netted and brought in. He'd rolled over several times, looped the line around his bill, and got tangled in the net. We had a time getting him loose, but eventually managed it. Buck was so impatient to get him back in the water we barely had time to photograph and measure him—31"—before Buck grabbed it and started to put him in. In doing so he dropped the poor beast in the water, wailing that—thanks to our interference—he'd not been able to give him a chance to recover completely. But that fish never came up and I'm sure he swam off with a sore jaw, chomping minnows a little more gently but otherwise fine. He's probably telling the story of his narrow escape even now.
Buck was visibly relieved after that. It was 2:00, so we headed back to the dock, thanked Buck for his alleged services, took a leak, and headed back out downriver to the rocky point where I'd caught the catfish. There we collected a few walleyes for eating, and then Dave wanted to go back to the first cove where the bass were alleged to be. We spent the next four hours there fruitlessly. Not a bass in sight, not even a perch. Finally I managed to get Dave off the river about 7:30, after a nearly 12 hour day.
The flight home was uneventful. We went through US Customs in the Ottawa airport, not Washington National. The Customs Service has this sort of off-shore outpost in a couple of places, but it was the first time I'd encountered it and I hadn't expected to be grilled so thoroughly. But it did make the return trip easier, when we landed. I'd like to get Air C anada to give US Airways and Delta lessons on how to run a baggage claim. We had our bags waiting for us when we arrived, at each end.
All in all it was a good trip, but I have to say I'd hesitate to do it again. It was expensive, though the Lodge's prices were certainly reasonable, considering they included three meals and boats. If the fishing had been as good as I expected I might be more inclined to go again, but at least with respect to bass, things are much better here on the New River. The advantage to the Ottawa is the possibility of getting stuff we don't have.
We caught at least 8 species of fish: perch, walleye, pike, smallmouth, catfish, sturgeon, rock bass, and that 1" largemouth. Good variety but not much action, all in all.
The walleye were new to me, and I would love to catch some again. We are supposed to have them in the New downriver of the Claytor Lake dam: if so, I'll bring home every one I catch, they're by far the best eating fish I ever had. I haven't dared to calculate the cost per pound of the four we did eat!
If anyone is interested in the K/O Lodge I'd recommend them. Their service is good, the setting is beautiful, and while I've had better fishing trips, I've had a lot worse, too. They also have hunting packages (archery and gun hunts for bear and perhaps moose). Terry Jr. told me that Canadian gun laws have a measurable effect on their hunting season: Americans don't want to come to Canada with firearms as a matter of principle; and it is a fact that when you register your gun at the border, to enter Canada legally with it, that information is shared with the BATF. The Conservative Harper government repealed the registration law for long guns, but the replacement of Harper with Trudeau's Liberal Party government is a very unhappy development and likely to see the long gun registry reinstated. (Addendum: the long gun registry was a vastly expensive and total flop and it has been repealed since this article was written.)
---