A NEW MEXICO TURKEY HUNT
by
Bob Boardman
---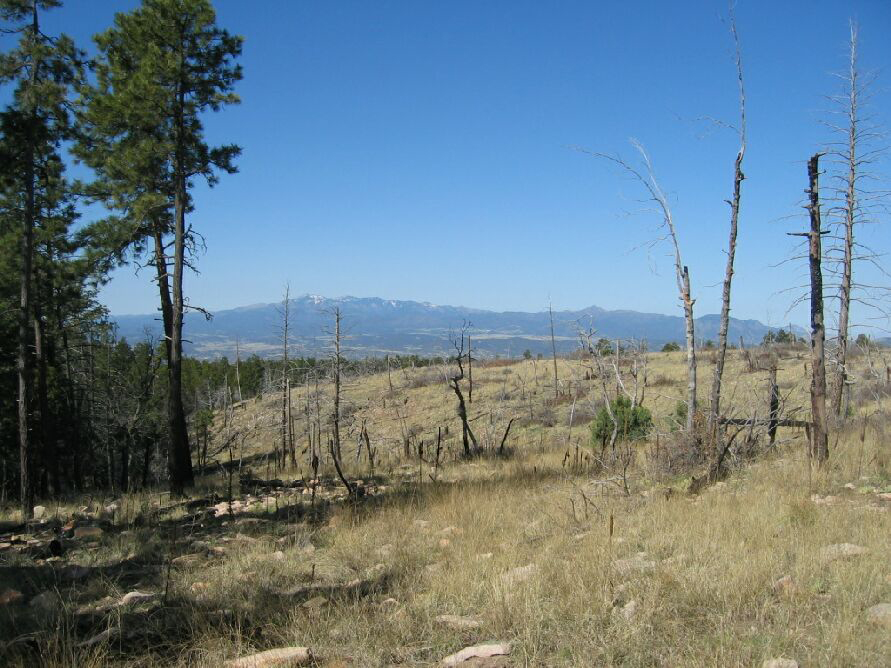 My friend John called me last week and said "Let's go turkey hunting", which was enough for me. So with no planning, we threw a bunch of camping gear in his Dodge Hemi Ram pickup last Thursday and headed down to a good spot we know about 4 hours southeast of Albuquerque.
As we were approaching the National Forest boundary about 5 PM in the afternoon, just coming off of private land, 4 gobblers gobbled at us from not more than 10 yards away. Luckily for them, they were on the private land side of the road, so we just smiled at each other and proceeded on up the mountain to where we planned on camping.
Since it wasn't the weekend yet, there were no other people on the mountain with us. We camped at about 8,500 ft. altitude in a beautiful spot, not far from a "trick tank" water source, had dinner; then sat around a nice campfire 'til it was time for bed, and hit the sack in our sleeping bags in my old backpack tent. We got up as it was just getting light, gulped down some coffee, got our camo clothes on, and then headed off in a random direction from camp.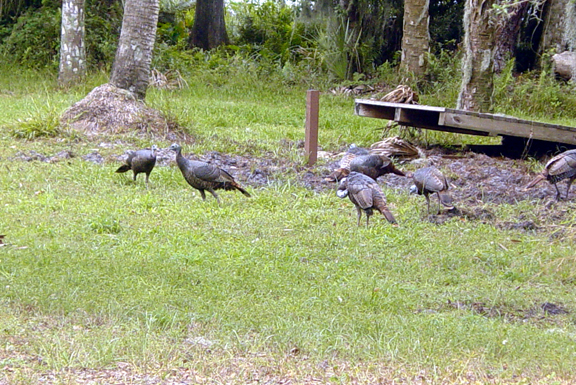 After about a quarter mile, we came out of the thick woods into more open ponderosa woods, and decided to try a call. A few "keowks" on the box call were rewarded with a gobble just over the next ridge. We hurried to get set up in some nearby bushes and began calling, but this gobbler was with some hens, and wasn't about to come to our call. He would answer our calls every time, but proceeded to move down the ridge and angled away from us. So we hiked a ways further and tried another call, and got another gobble in response.
But this second bird was just as wary as the first, and wouldn't come in to us either. The turkey season had opened about two weeks earlier, and it was obvious that other hunters had been messing with these turkeys before us, and they were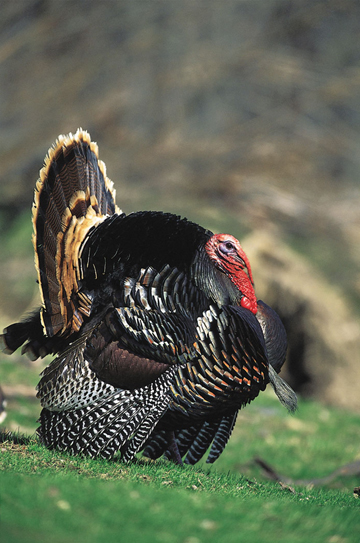 pretty wary. We proceeded in a large loop around a part of the mountain, finally intersecting the main forest road. We stopped for a quick break, and just after I set down my shotgun and was relieving myself, John tried another call on the box which was immediately answered with a huge gobble not more than 125 yards away! So in a panic I got zipped back up, got my gun, and we quickly found what cover there was and got set.
So began the contest. John switched from his box call to his slate call, and did his darnedest to sound like a horny hen turkey. The old gobbler would periodically gobble back, but was "hung up" out there at about 100 yards or so, invisible behind the trees and brush. He kept moving back and forth across the road, but was not getting any closer. This went on for over 30 minutes. Finally, John made some faint "purrs" with the slate call, and that was more than the gobbler could stand, and he triple-gobbled and started coming in.
Even though we were both as ready as possible, he suddenly appeared out of the woods in a spot we hadn't anticipated, with his head gleaming white in the early morning sun. But there just wasn't enough cover, and even though we were completely in camo with camo face nets, he still spotted us when he was about 60 yards aways, and instantly changed from a big puffed-up gobbler to a little snakey thing running off through the woods. Even though we never got a shot off, it was an epic battle and great excitement.
We continued hiking and calling until late morning, and then headed back to camp for some food. In the afternoon, we decided to hike out a ridge farther away from the road. After getting down the ridge, we dropped into a really beautiful spot. The ponderosa woods are lovely this time of the year, with new grass shining bright green in the openings, highlighted by the golden rays of sun filtering through the trees, and the pine-scented air is almost intoxicating. We began calling again, and were immediately rewarded with several gobbles in response. Once again, we quickly got set up, but these birds weren't as wary as the ones nearer to the road, and they came running in to us, racing to see which could get to the hen first.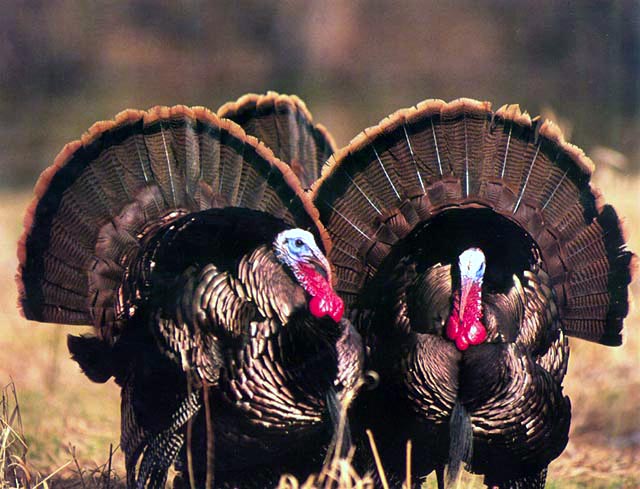 As they came out of the brush at about 40 yards. John and I both fired, and two gobblers went down. They were followed by 3 or 4 more gobblers, which we could have also easily shot if we'd had more tags, but the area we were in has a one bird limit (some areas in New Mexico have a 2 bird limit), so we just watched them wheel around in confusion for a litle while before they ran off. We returned to camp, gutted the birds, and put them in the bed of the pickup to cool down. Had a tasty camp dinner and then enjoyed another campfire before retiring for the night.
When we awoke the next morning, we were in cloud. Even though the forecast had been for a sunny day, mountains seem to make their own weather. We quickly packed up camp, and by the time we were loaded, it was "misting" a little bit. We headed off the mountain, and managed to avoid the bigger rain storms as we returned to Albuquerque—the cloud cover was perfect for keeping the birds cool until we got back to John's, where he proceeded to skin them for mounting (John is a taxidermist).
It seems like some of our really great hunting adventures have started this way—little or no advance planning, but everything just worked out perfectly! Turkey hunting is really great fun, and not much can compare with the excitement of hearing that gobble in response to your call!
---