BLACK POWDER REVOLVER FOR SALE
---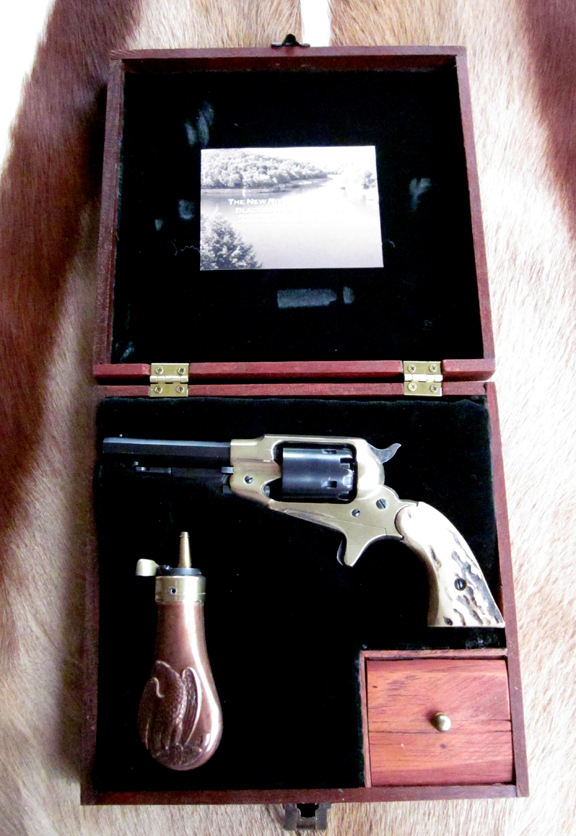 A very nice brass framed reproduction of the Remington "New Model Pocket" .31 caliber revolver, made by Armi San Marco for Connecticut Valley Arms in 1988 (date code is "AT"). Remington made the New Model Pocket from 1865 to 1873 in percussion ignition, a total of perhaps 25,000 guns before introducing a conversion for fixed ammunition.
This little gun is in excellent condition, and very little used; I am the original owner and had it fitted with custom-made stag grips. I made a "French Style" case for it, lined with green velvet: the case is actually a former cigar box! Please be aware that the trade label for the "New River Armory" is pure decoration, no such company exists.
It fires a .318" round ball; some of which are included in the case. I will include a high-quality holster made specifically for this model as well as a proper reproduction powder flask. All you need is some FFFg powder and #11 caps, and you're ready to go.
In my hands it has been utterly reliable: tight and solid in lockup, it has never misfired. It should be used with FFFg black powder or an equivalent "replica" powder such as Pyrodex or 777. It must not be used with smokeless powder of any kind; and since it has a brass frame, it can't safely be fitted with a conversion cylinder to use fixed ammunition.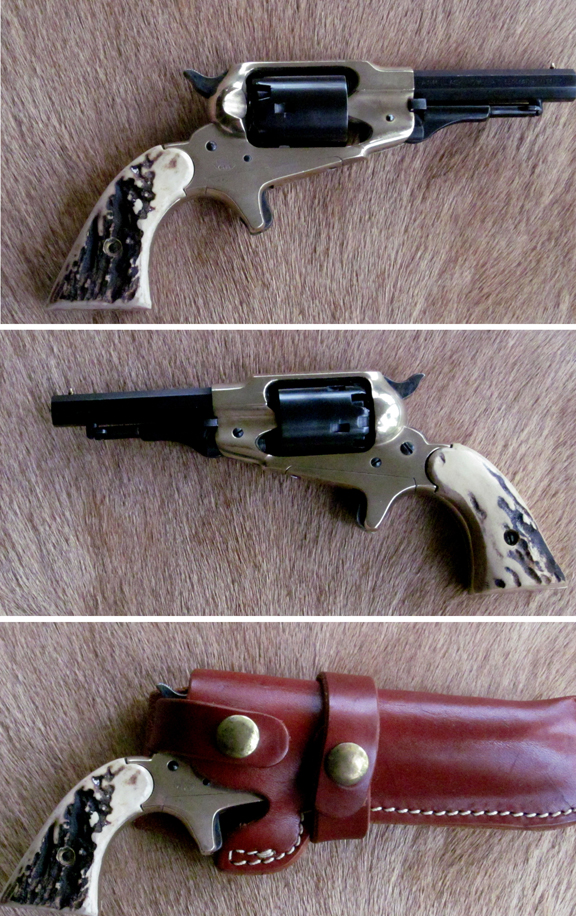 Because it is a reproduction percussion gun it meets the BATF and GCA definition of an "antique" and requires no paperwork at the Federal level, nor in most states. No FFL holder need be involved in this sale: it can come directly to you, but it is your responsibility to know the laws where you live.
I can ship it via FEDEX to any US street address, adult signature required. It cannot be sent by USPS, nor to a PO Box. I've reached the age where I'm "thinning the herd" and selling off items from my gun safe, and as much as I will regret letting go of this fine little revolver, its time has come. I know I'll never use it again and would prefer it to go to someone who will enjoy it as much as I have. The price is $400.00 including shipping. I do require that the purchaser send me proof of being age 18 or older, however, preferably a copy of a driver's license or similar photo ID. Sorry, but I can't send this outside the USA.
Take note: THE ONLY ACCEPTABLE PAYMENT IS A U.S. POSTAL SERVICE MONEY ORDER. No checks, not even certified ones; no cash, no money orders from anywhere but the USPS. If you send me anything else I'll send it right back. Sorry to have to be hard-nosed about this, but unfortunately I've had people try to scam me on similar sales. I cannot accept credit cards. Please note that I am not an FFL holder.
If you're interested, please send me a note by clicking here.
---
Click the "Back" Arrow to return to the Guns Index page